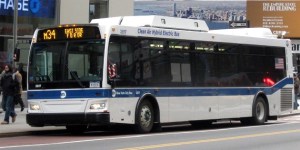 Good news for straphangers on this crap weather day. The MTA just added another route to BusTime, the service that uses GPS to moniter where buses are in the city.
Two Manhattan buses, the M16 and M34, got the service in October. Today the MTA added B63 in Brooklyn, reports The New York Post.
The bus's estimated time of arrival is displayed on electronic signs at bus stops. BusTime is also available online or by texting "mtabus" and the bus stop ID code, found online and at the stop, to 41411.
ajeffries [at] observer.com | @adrjeffries