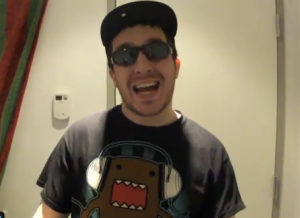 Music Hack Day at General Assembly produced 72 demonstrable projects ranging from valentine-generators to an interface for air-DJing using Microsoft's Kinect.
At least one of the prototypes has legs. JSONloops, a real-time, browser-based tool for music collaboration, was approved for a $20,000 campaign on Kickstarter. The ambitious campaign kicked off last night and has 29 days to go.
The project comes from three quarters of the team behind Nodejitsu, a General Assembly startup that hosts and supports certain kinds of Javascript applications for developers.
The project is open-source and the prototype is functional, but the team predicts it'll take hundreds of hours to build a workable, stable first version. They want the money to hire interns.
"Quite honestly, we're going to push it forward with or without any donations," co-creator Marak Squires says in the Kickstarter video, underselling the cause. "It's just a matter of how far we can push it and how quickly."
A Kickstarter campaign will also help the team build a community of musicians and programmers using the tool.
ajeffries [at] observer.com | @adrjeffries