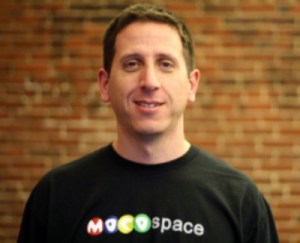 MySpace, the troubled social network with a giant "For Sale" sign planted on its front lawn, has a buyout offer from mobile community company MocoSpace. See how the names are similar, with the "Space" at the end? It's a start!
"MySpace was a pioneer in the social revolution and we think their business could be paired synergistically with our offerings," said MocoSpace CEO Justin Siegel in a statement. "MocoSpace and MySpace would be a powerful combo in the social networking world."
MocoSpace professes to be the world's largest mobile social network, with 71,604 users "online now," according to its website. In addition to the ability to search for people of both genders, MocoSpace offers chat rooms and online games. The company also says it has "over 16 million registered users generating more than 3 billion pages per month."
Maybe this is just what MySpace needs — a heavily trafficked platform that targets a more youthful demographic in the mobile space. In return, MocoSpace gets access to detailed personal information on 150 million potential new users.
mtaylor [at] observer.com | @mbrookstaylor