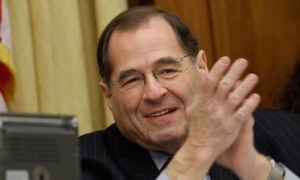 Yesterday civil rights hearts were cheered when President Barack Obama announced that the Department of Justice would no longer defend the Defense of Marriage Act in federal court and would press Congress to repeal the act altogether.
Today west side Congressman Jerry Nadler sent out word to his email list announcing that he is introducing legislation that would do just that, and that California Senator Dianne Feinstein would take the cause in the Senate.
The bill already has 120 co-sponsors in the House, and former President Bill Clinton, who signed DOMA, has said he is supportive.
Needless to say, this bill likely has little chance of passage, not least because of growing conservative opposition.
Nadler's missive, which comes with a requisite request for money, is below:
Dear Friend,

In case you haven't heard the major news this week, I wanted to share some very exciting updates with you. First, yesterday, the Obama Administration announced that the Department of Justice will no longer defend the Defense of Marriage Act (DOMA) in court. This goes hand in glove with the efforts I've been making to reintroduce my bill to repeal DOMA, entitled The Respect for Marriage Act. And subsequent to the Administration's announcement, Senator Dianne Feinstein announced that she would partner with me in this fight and introduce a companion bill the Senate, adding powerful support to the growing movement in Congress to end this indefensible discrimination.

Can you contribute $15 or more to my efforts for LGBT equality? Click here to rush a contribution. We have made progress in winning hearts and minds over to our side, but DOMA is still the law of the land, and it continues to deny legally married same-sex couples access to over 1,000 federal rights and responsibilities. I need your help to rally the political support in Congress to pass The Respect for Marriage Act, while the momentum is on our side.

Could you support my efforts to repeal DOMA today, with a contribution of $15, one for each year DOMA has shamefully been in effect in the United States? Click here.

Thank you for your support. I look forward to updating you as our fight for LGBT equality moves forward.All the best,