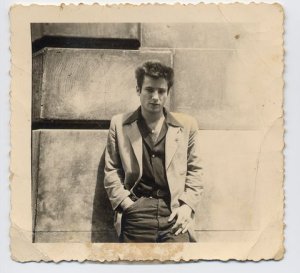 An author's note warns that not all of what we read in Yoram Kaniuk's memoir of New York in the 1950s is technically true: It might have happened otherwise, but that was all so long ago, and memories …
Everyone will choose how much of Life on Sandpaper (Dalkey Archive, 400 pages, $15.95) to believe, but for me, the task of parsing the implausible scenarios was too maddening–ultimately there was no choice but to believe every word. And there's a lot to believe–that Billie Holiday, who "looked like an abused bird," wrote a song for Mr. Kaniuk called "Yo's Blues," took walks with him and told him she'd had better kissers; that he spent an evening at Chock Full O'Nuts with Charlie Parker, "the world's first black cowboy. … He collected pistols of the kind you see in westerns … made a religion of roasting chickens, loved model railroads, and dreamed of driving a gold-plated Cadillac … chewed aspirin and drank sweet and disgusting Manischewitz wine"; that Jimmy Dean brought hot coffee and rolls to Mr. Kaniuk's apartment in the mornings in order to sit quietly behind him and watch him paint; that Mr. Kaniuk, pretending to be a Russian invalid, danced with Ginger Rogers until he made the mistake of staring at her wrinkled neck.
And there's plenty more–Stanley Kubrick, William Saroyan ("an insufferable man"), Robert De Niro Sr. with his baby boy. "I was in the lives of all these people by mistake." Mr. Kaniuk writes about them the way one might write about one's neighbors–thrown together by circumstance, and because of this, a bit mistrustful of the connection, afraid of leaning into it.
Mr. Kaniuk was born in 1930 in Tel Aviv. His father was born in Tarnopol, Ukraine, and his mother in Odessa. In 1948, Mr. Kaniuk fought in the War of Independence, was wounded in the leg, grew impatient with Israeli life and left. Not yet 20, he was penniless when he docked in Paris and no richer when he arrived in New York the next year. He spent 10 years bumming around the city–frequenting jazz clubs, scrounging for money or hatching moneymaking schemes, fucking anything with legs and trying to be a painter (or being a painter, but trying to be a successful one). In 1962 he returned to Israel with three things–a wife, a daughter and a first novel, The Acrophile, published in English in a translation he subvented. The career change stuck. He became one of those wildly prolific authors–X novels, Y story collections, Z books of essays, N children's books and one memoir. Let's not get into the literary prizes …
The accounts of the famous will attract readers (they won't disappoint), but the book is at its best when concerned with people you've never heard of, like Mira, whom Kaniuk met while drawing on the concrete in Washington Square, and her father, Boris. Mira–"Her face was the site of much drama. […] She had a mind like a razor. Got her BA at sixteen." Boris was a chemist, and after emigrating from Russia in 1942, he was taken to Los Alamos to work on the atomic bomb. He had been Stalin's "pet Jew." In the Kremlin, they played chess and sang sentimental songs. "The people's love of tyranny, [Boris] said, is the great existential secret." People need somebody to think for them. And democracy? "There was something noxious and ugly in millions of ignoramuses electing a fool–anyone who can hypnotize them and convince them that he's just their size–to be their king." Boris found communism just as despicable, but so did Stalin.
As a child, Mira had sat on Stalin's lap. Mr. Kaniuk writes, "I thought that Boris hoped that Mira and Stalin would get married." Boris felt that Mira had betrayed him by being his wife's daughter, too. Mira was powerfully beautiful, rejected men, became a nun, revived an ancient convent in Spain that had fallen into disarray and went to Rome and met with the pope, who said that "she'd brought the roses back to the cheeks of the Church in southern Spain." Two years later, she bought two cans of hashish, returned to New York and began manipulating men. Boris said, "She'll be the first Jewish woman president yet." But the last we see of her, she isn't president–she's 28, standing over the graves of her parents. "It was as though all the energy that had been in her like the Niagara Falls, in all her speeches, her adventures, had evaporated."
Then there's Adele Schwartz, who decided she wanted a baby and went to Jones Beach in a tiny bikini and in a little notebook evaluated the lifeguards. "Inefficient; No freckles; Likely an excellent sexual athlete; Has stamina and is patient; Eats lettuce, yogurt, and steaks; Excellent potential longevity." She spends two nights in a motel with the finest specimen, and the result: a child "with a body like Superman's and the brain of some Jewish amazon from an orphanage in Brooklyn."
It's probably evident that this is a book impossible to summarize. Mr. Kaniuk can isolate a certain moment for pages, or span years in half a sentence. He could have organized his material the way other memoirists do, but he chooses not to–it's a deluge. The stories pile on, steer away, return, and the book develops its patterns and meanings from accumulation. Toward the end, I had the thought that people used to change more. Now we have to be whom we first claim to be, perhaps because everything is so expensive. Another realization: A decade is a long time. The book ends, as I've already mentioned, with Kaniuk in his early 30s, returning to Israel with a young family–if the fun's not over, it's certainly dimmed, but such is life.