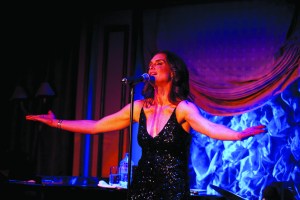 It seems like yesterday when Brooke Shields lit our lashes as pedophile bait in Louis Malle's Pretty Baby. From adolescent prostitute to hip-swiveling Rizzo in Grease and killer babe with a heart of pure platinum in Broadway's Chicago, America's personality-packed sweetheart has lived more lives than a cat on roller skates. She calls her stint as the Ivory Soap baby at 11 months old "the last time I didn't need a body double." She's funny. Now she's a singer. Well, sort of.
In her debut cabaret act at Feinstein's, she's tall and three-dimensional in black sequins above the knee, but even if she doesn't give Barbara Cook sleepless nights in the vocal department, she makes up for all and sundry musical limitations with an abundance of radiance and humor. Unlike most gorgeous icons, she's as unpretentious as a geranium, and she knows how to put her audience at ease with self-deprecating anecdotes that knock the ball out of the park with an infectious spirit that leaves you cheering.
She says she never did a solo act before because she didn't have an act. She still doesn't, but what she does is engaging. Understandably, she sings the kind of noisy, silly, pointless stuff she listened to 25 years ago, accompanied by growing pains: Carole King, James Taylor and a thing called "Sandra Dee." Not my cup of green tea, perhaps, but it is my happy duty to report that she gets the pop stuff out of the way early. In no time at all, she throws herself with abandon into Rosalind Russell's two Betty Comden-Adolph Green-Leonard Bernstein show stoppers "100 Easy ways To Lose a Man" and "Swing" from Wonderful Town (one of the shows she starred in that New Yorkers don't know about). Moving on to Frank Loesser, Kander and Ebb and Charles Aznavour, she proves she can dazzle. She wrote the patter herself, and it is super. Insisting that contrary to popular belief, her childhood was "normal," she relates a funny, touching story about her naïve plan to lose her virginity to her first serious crush, George Michael. This leads to the charming Stephen Sondheim-Mary Rodgers send-up of "The Girl From Ipanema" called "The Boy From …," a tongue twister most seasoned pros are afraid to tackle.
Modeling for Avedon, swimming naked through Blue Lagoon, surviving the early divorce of her parents, playing pool at 8, riding around Manhattan in a black Jeep with her often-maligned stage mother, Terry, and finally turning into a twice-married wife and mother, she's lived a full life. The name of the "act" is "In My Life," and she's not kidding. Under the sophisticated direction of Mark Waldrop and backed by a versatile four-piece band that chimes in vocally on the bouncy Betty Hutton number "Can't Stop Talking About Him," she illustrates each chapter of her life story with well-selected songs. A special highlight is "After All," the tribute to her mother in the form of a deeply moving ballad from the score of a forthcoming Broadway musical by Zina Goldrich and Marcy Heisler.
For her finale, I wish she had selected a more appropriate song than "Maybe This Time," written for and made famous by Liza Minnelli in such a way that only invites comparisons that would be wise to avoid. Likewise, her Lennon-McCartney encore, "In My Life," echoing the title of the show, is sung through her nose instead of her heart. But let it be said it is easy to forgive any luminous lady with this much radiance, warmth, sweetness and bountiful beauty. How to describe Brooke Shields? If the word ebullient fits, wear it.
rreed@observer.com