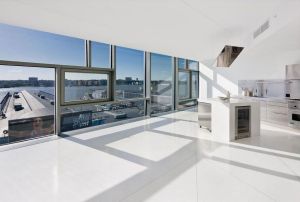 Another day, another sale at Jean Nouvel's spectacular 100 11th Avenue.
Self-made man Luciano Rammairone went from studying at Pace to having college kids write about it for high school kids at College Bound magazine. Now, his CollegeBound Network rivals the likes of Kaplan and Princeton Review, and the proceeds have helped finance a move from a sleepy Staten Island cul-de-sac to one of the toniest–if troubled–properties in Manhattan.
Mr. Rammairone paid $3.6 million for a ninth-
floor three-bedroom in the Pritzker-approved signature building on starchitect's row. That is a 13 percent discount off an ask of $4.145 million.
Located in the northern quadrant of the crescent-shaped building, the 1,950-square-foot condo enjoys western views of the Hudson and Chelsea Piers through Mr. Nouvel's distinctive windows. "This home was created with stainless steel, etched and clear glass, terrazzo flooring and custom lighting…every detail individually designed by Jean Nouvel," boast Holly Park, Trisha Riedel and Michael Lorber in their Douglas Elliman listing.
This is not the first spectacular home purchased by Mr. Rammairone, either. He has bought a number of properties on Staten Island in the past decade, including 79 Howard Street. That became Casa Belvedere, a landmarked mansion that was restored and converted into an Italian arts and cultural haven.
And last month, city records reveals that Pierre Combet, a French businessman, bought a unit down the hall at 100 11th. His new one-bedroom on the building's southern side was asking $1.925 million and sold for $1.54 million, a 20 percent slash.
Their new neighbors include fellow real estate lover Larry Mueller and, of course, Kelsey Grammer.