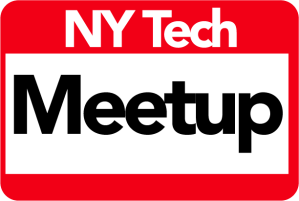 The 83rd ever New York Tech Meetup, hosted at NYU's Skirball Center for the Performing Arts, hailed a new era of expansion for the hack-encouraging demo series. The Tech Meetup is searching for a managing director, something emcee Nate Westheimer said would greatly accelerate the Meetup's role in helping the New York technology environment flourish.
One of the biggest crowd-pleasing moments came when DontEat.At's Max Stoller explained his app in under a minute: It blends Foursquare and New York City Health data to alert users when they check in to restaurants with a lot of health-code violations. He spent the rest of the demo talking about how he programmed the app for New York City BigApps.
Also well received were Proust, a question-based program that invites users to digitize family- and friend-related memorabilia, and Fancy Hands, the brainchild of former New York Times man Ted Roden, which aspires to provide personal-assistant services to subscribers.
The founders of TinyPass.com demonstrated a new easy-to-use micropayment system that would allow large-scale content producers like The Daily Beast and small-time bloggers to charge for premium content. They're not the only ones thinking about improving content payments; TheNextWeb today reports on the debut of Cleeng, a WordPress plugin that allows publishers to create premium sections of their websites.
Tax and accounting website Teaspiller seeks to help people find an accountant by culling user reviews, regulatory information and accountants' resumes. CEO Amit Vemuri made a crack about how people don't go to accountants for "breast exams" to illustrate the point that transactions with accountants can be carried out online.
CEO and founder Tereza Nemessanyi from Honestly Now introduced a website that would help users "make great personal decisions" by asking friends and qualified experts on the internet questions like "Should I wear this cardigan?" Other demos included an interactive gameshow from CollegeOnly's Josh Weinstein; Consmr, a Yelp for packaged goods; and Hyperpublic, a site that encourages users to engage with their local communities.
mtaylor [at] observer.com | @mbrookstaylor