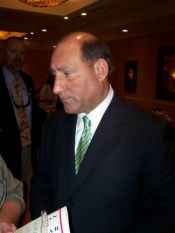 With Exelon exiting southern Ocean County by 2019, 9th District legislators want to establish a New Jersey Coordinating Council on the Decommissioning of Nuclear Power Generating Facilities.
Since the Oyster Creek Nuclear Generating Facility operators have decided to cease all operations in eight years, Sen. Christopher Connors, Assemblyman Brian Rumpf and Assemblywoman DiAnne Gove of Forked River are resurrecting their 2006 proposal for a decommissioning commission with bill S866.
The legislators wrote to Gov. Christie in December that a plan must be in place to "significantly mitigate any associated negative economic, environmental, etc. impacts on the local area," specifically stressing the impact on the plant's host community, Lacey Township.
However, no action was taken on the bill today by the Environment and Energy Committee, with Chair Sen. Bob Smith, (D-17), of Piscataway, saying the bill needs significant alterations in wording due to its five-year shelf life.
"I think Senator Connors has a great idea, but it needs a lot of upgrades, changes and tune-ups," Smith said.
The nation's oldest operating nuclear plant has fiscal and environmental concerns for locals, with legislators promising their bill would charge the commission with executing specific plans, including the useful life and physical decommissioning of a facility; specific safety and security measures during the decommissioning; and taking into consideration public welfare.
With no national waste depository in place, Smith said one of his biggest concerns is the existing spent fuel rods remaining on 15 acres of the 785-acre site. "We need to coordinate it so good things will happen for jobs and the environment," he said to Exelon officials.
Bradley Fewell, vice president and deputy general counsel for Exelon, testified briefly, emphasizing he fully understands the committee's concerns. He said, "we are willing to sit down and work with you and others to fashion a bill that is appropriately constrained."
Although the Nuclear Regulatory Commission has exclusive regulatory authority of the site, that will not keep both legislators and Exelon officials from forming a decommissioning committee, said Fewell.
Committee member and Sen. Linda Greenstein, (D-14) of Monroe said she would like to see the proposed commission have a broad representation, specifically noting the importance of having both environmental workers and Exelon union workers sitting on the committee.
Smith said the bill will be readdressed in March.