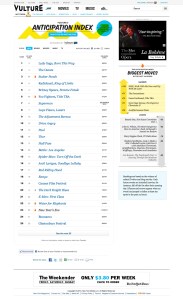 New York's Vulture will no longer need to wonder what pop culture topics are worth writing about. It's partnered with Trendrr to create an Anticipitation Index that measures online buzz.
By now most folks are familiar with the SEO stylings of publishers like AOL/HuffPo, who often write stores–"What Time is the Superbowl"–to match a particular audience demand according to what people are searching.
It seems like the Anticipation Index has a similar mission based on interest expressed on Twitter and blogs in real-time. "We are thrilled to power Vulture's smart parsing of the social web," said Trendrr founder Mark Ghuneim. "The Anticipation Index is pure info porn."
Vulture has been on roll, doubling its traffic in 2010 and increasing unique visitors by 89%. Will their users take to this new algorithmic smut? There's bound to be some gleeful schadenfraude as buzz builds and wanes for big name productions, but overall this seems like a tool that will be more interesting to journalists than to readers.
bpopper [at] observer.com | @benpopper