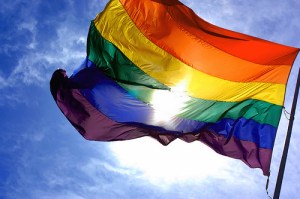 In a reversal, President Obama ordered the Justice Department to no longer defend the Defense of Marriage Act in court.
Gay rights advocates had lambasted the president for effectively supporting the status quo by compelling the Justice Department to defend the Defense of Marriage Act; although Obama publicly criticized the policy, he said that responsibility for overturning the legislation lay with Congress. Obama's decision today to change this position saw an outpouring of praise from New York politicians.
"Today is another historic step for equality in our nation," Christine Quinn, the first openly gay New York City Council speaker, wrote in a statement. "The announcement that the White House and the US Department of Justice will no longer assert the constitutionality of discrimination based on sexual orientation sends a powerful message to all Americans. I applaud President Obama and Attorney General Holder for their leadership and commitment to equality for the LGBT community. While there remains much to accomplish, we should stop for a moment and be proud that our community has come together to successfully advocate for what is right for America."
Senator Kirsten Gillibrand, a strong proponent of marriage equality, sent out a statement lauding Obama's decision and enumerating the rights that the Defense of Marriage Act withholds from gay couples, including employment benefits for families, child rights and tax breaks.
"The fact is that history is moving in a direction that ensures gay and lesbian couples are offered the same basic rights as everyone else – the right to get married, start a family and receive the full benefits that come with it, and be counted the same as everyone else," Gillibrand wrote. "I look forward to the day when New York and all states accept this basic principle of fairness."
Representative Jerrold Nadler sent out a statement pledging to reintroduce the Respect for Marriage Act, which would repeal the Defense of Marriage Act.
"I commend Attorney General Holder and President Obama for their leadership, integrity, and courage," Nadler wrote. "After careful consideration, and weighing heavily their duty to defend laws passed by Congress, the Attorney General and President concluded that Section 3 of DOMA is unconstitutional and cannot be defended by the Department of Justice. This marks the first time that the federal government has recognized that a law designed to harm LGBT Americans and their families cannot be justified."