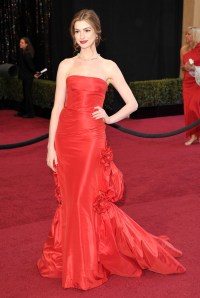 11:41pm. Melissa Leo closes the night by toting her Oscar to the sky. And then she floated over the rainbow, and was never heard from again.
11:39pm. Also, this school-choir music is what I hear when my sleepytime nightmare begins, a la Edith Piaf in Inception. BRAWWWWWNG.
11:36pm. Post-mortem: Franco and Hathaway–particularly Franco–were largely missing-in-action. We expect they'll return to comedians next year. Guy Pearce has been in two Best Picture winners in a row. Annette Bening is going home to build a new voodoo doll. Harvey Weinstein is back. See you next year!
11:35pm. The Best Picture nominee montage narrated by Colin Firth and ending with a clip of The King's Speech was so subtle. We had no idea that The King's Speech would win!
11:32pm. So sad they didn't include The Blind Side and Chocolat in the "losing-Best-Picture nominees" list. Also, Spielberg's presented this category twice before. Mix it up, Academy!
11:31pm. Anne Hathaway's first off call, in a turtleneck spangler borrowed from Oscar-winner Liza Minnelli.
11:28pm. "I have some impulses I'm going to tend to backstage," says Mr. Firth. Find an unoccupied room!
11:26pm. When you think about it, is Country Strong the American version of The King's Speech? (No.)
11:25pm. No one has ever sounded so bored as Sandra Bullock, presenting Colin Firth with Best Actor for The King's Speech. "I'm experiencing stirrings," the actor tells us. Okay!
11:23pm. Didn't that "I'm a Naval officer" scene kind of come out of nowhere during The King's Speech? Like, he hadn't mentioned that in the movie to that point. "Actors act, and none better than you," says Bullock to Franco, which is false and will be demonstrated false in, like, thirty seconds.
11:21pm. Sandra Bullock is America's most easily influenced person. She puts on a fake(?) Southern accent to say Jeff Bridges "strapped on that eyepatch" and calls Jesse Eisenberg "the voice of a generation."
11:20pm. Anne Hathaway calls Sandra Bullock even more admirable a woman than an actress. She really did overcome all that Nazi stuff being found all around! She says "hola" to Javier Bardem.
11:19pm. Portman reserves thanks for the Rodarte girls and the camera operators on Black Swan.
11:16pm. Natalie Portman wins for Black Swan. Her ballerino beau (oof) escorts her onstage. Darren Aronofsky looks delighted in a long-deferred pleasure of seeing his actor win. Annette Bening does the slow, slow clap. (She really will win next time, right?) She thanks Luc Besson for casting her in The Professional, and Mike Nichols (remember when she called him "Daddy" at the Golden Globes?). Mothering is "the most important role of my life."
11:14pm. Jennifer Lawrence's swimsuit-homage dress does look very, very good! And her laughter at her own clips is infectious. Also, Bridges's pronounciation of "devot-ees" is delightfully unpretentious.
11:11pm. Jeff Bridges presents Best Actress, giving special shout-outs to each nominee. Thank heavens that they canned the individual presentations to actors. They tried and failed–no shame in admitting it.
11:08pm. It's really nice to see Javier Bardem and Penelope Cruz in public together, even just in a reaction shot! One of that couple has been nominated for an Oscar for each of the past five years. Hope it lasts forever, guys!
11:07pm. The award for best elision of controversy goes to "Oscar show editors" for the film Godard Skips the Oscars.
11:06pm. Annette Bening's dress is sponsored by Spider-Man: Turn Off the Dark.
11:05pm. Tom Hooper, by the by, is an Emmy winner. Halfway to an EGOT, baby!
11:03pm. Tom Hooper wins Best Director for The King's Speech. What a twist the evening has taken, so suddenly! Poor David Fincher, maybe for the Girl with the Dragon Tattoo adaptation.
11:01pm. It's nice the Oscars exist, if only to give Hilary Swank a moment to shine. Swank and Kathryn Bigelow present Best Director.
10:57pm. Is it not a bit weird–musing randomly–that they've had way more Annette Bening reaction shots than Natalie Portman reaction shots? (By our count, zero.)
10:55pm. They close on Lena Horne–and Halle Berry comes out to present a special tribute.
10:53pm. Celine Dion is, certainly, queen of the Oscars. We'd sadly forgotten Gloria Stuart passed away this year–and Sally Menke! They seem to have cut off the audience applause meter, which is a really classy move.
10:45pm. Best Original Song goes to Randy Newman, "We Belong Together," Toy Story 3. Oh, wow, Randy Newman just like he sings! What a compelling and humble story Mr. Newman tells of all the times he's been nominated and lost, and how much he's an icon at the Oscars!
10:44pm. Singing "It's a pink flamingo double-wide" even vaguely convincingly should get Gwyneth Paltrow a second and third Oscar.
10:42pm. Jennifer Hudson was doing a, like, accent when she introduced Florence Welch, right? Is this all preparation for the Winnie Mandela movie? Also, was that 127 Hours thing a song, really?
10:40pm. "How you doin', James?" "Not so good!" The Observer agrees. He makes a great, and not at all played-out, Winter's Bone joke.
10:35pm. The Social Network wins Best Film Editing–for a film not favored to win Best Picture going into the night, David Fincher's film is cleaning up! (One is reminded of The Aviator's early sweep of its Oscars before losing the big prize, but that was a period piece–and its wins were easy gets.)
10:34pm. "It feels like the top is still spinning, but–I don't really care anymore!" says the Inception visual effects designer. An admirable attitude we should all emulate!
10:32pm. I guess it's nice that we've cycled around to the point that we can make fun of Robert Downey, Jr.'s past addiction problems–so much has changed since the Golden Globes! Inception wins its fourth Oscar of the night, for Best Visual Effects.
10:31pm. Did we need Bob Hope-as-hologram to spend more time onstage than has James Franco? Or to get his voice to read off Jude Law and Robert Downey, Jr.'s names? Weird! We have living hosts, they're right here! They're not that talented, but they're here!
10:28pm. We're doing a tribute to Bob Hope now, maybe to remember times when audiences didn't feel intense antipathy and Tweet-borne instant disgust for their hosts!
10:26pm. Billy Crystal! Anne Hathaway genuflects towards him, maybe because she now realizes how much it works to make every moment you're on stage not about you.
10:22pm. Inside Job defeats Exit Through the Gift Shop for Best Documentary. We wish Banksy would crash the stage, or maybe admit he'd engineered the economic crisis secretly and thus deserves the Oscar! The director makes a brief, well-received note about the lack of retribution for financial executives.
10:21pm. Oprah Winfrey presents Best Documentary Feature. Maybe next year, they can get a presenter who's involved in the film industry!
10:20pm. Anne Hathaway apologizes for taking a "personal moment" to shake the tassels on her dress. She doesn't seem sorry!
10:18pm. The Observer simply doesn't get this YouTube, AutoTuned segment. AutoTuning Justin Timberlake? Haven't you listened to FutureSex/LoveSounds?
10:16pm. This wonderful young man thanked his mom for doing craft services on his film, and "the great state of Delaware." He also references the Thank-You-Cam. "NYU, what up!," says James Franco.
10:15pm. God of Love–which we hear is an NYU student film!–wins Best Live-Action Short. This guy is so, so collegiate! Where do you think he rented his tux? (We mean this in the most totally endeared way.)
10:12pm. Jake Gyllenhaal and Amy Adams present Best Documentary Short, and Gyllenhaal tells us we should see short films "throughout the year." Okay, I'll go to the short film theater a few blocks away. Remember last year, when Music by Prudence won, and an ex-producer stormed the stage to interrupt the speech, yelling "Woman talking!" Anyway, Strangers No More won.
10:09pm. Adrien Brody's Stella Artois ad just re-aired, you guys! Who would have thought Anthony Hopkins's role in The Wolfman would be so overshadowed for its embarrassment potential, so quickly?
10:05pm. Did you know that Tangled was a huge hit? Has anyone you know–even that sad adult who watches all the cartoons because that's what they think adults should do–seen Tangled?
10:03pm. Randy Newman performs "We Belong Together," sounding like the blatting human accordion he has always been. Does he not know this song was taken by, like, an incredibly popular and successful song?
10:02pm. Barack Obama, here via satellite, mentions that his favorite movie song was "As Time Goes By." No Three 6 Mafia? Then Kevin Spacey sings "Puttin' on the Ritz," just in case one hadn't felt as much secondhand embarrassment tonight!
9:58pm. Colleen Atwood wins Best Costume Design for Alice in Wonderland. Somewhat surprising that they haven't mentioned co-host Anne Hathaway was in this movie–can she be embarrassed, or something? The film's now won two more Oscars than Love and Other Drugs. Colleen Atwood is, via poor direction, as tangent to the camera as was Michele Bachmann a couple of months ago post-State of the Union. They have similar coloring, too!
9:56pm. Best Makeup–Cate Blanchett calls The Wolfman "gross," but it wins anyhow! Our Rex Reed was no fan.
9:53pm. Anne Hathaway's hair is so vertiginous right now! Marisa Tomei is more in keeping with the short, who-cares look going around now. She hosted the Sci-Tech awards, which, judging by the clips, went to people who worked on Shrek and Avatar. James Franco just mentioned Cate Blanchett's successful turn as "Queen Elizabliss." Okay!
9:48pm. Matthew McConaughey seems grimly unsurprised–perhaps he rooted for Tron: Legacy?–to present Best Sound Editing to Inception, which now has three awards.
9:47pm. Speaking of sound editing, Matthew McConaughey and Scarlett Johansson speak over one another to present the Sound Mixing award to Inception.
9:45pm. A "Six Degrees of Separation" joke–Franco has learned bleeding-edge humor at Yale. Presenting sound awards, Scarlett Johansson can, somehow, make repeating "Sooound!" seem charming–it's movie magic!
9:42pm. Best Original Score goes to Trent Reznor for The Social Network. Someone (Atticus Ross) who wasn't in Nine Inch Nails shares the stage with him, too–Reznor, who gets to speak, seems a little staggered no one's mentioned, or shut him out for, the NIN days.
9:40pm. The stars of Australia present a tribute to sound throughout the ages! What a moment!
9:38pm. The head of the Academy references being a baseball fan–what a relevant thing to talk about now!
9:31pm. The Oscar goes to Christian Bale, The Fighter. It's always so weird when a notoriously caustic actor plays nice at the Oscars (and when a brunette has red facial hair!)–we're glad he made it back from his smoke break during Melissa's speech? He thanks Dicky Eklund, who is every awards-show-this-year's Soy Bomb, and plugs Eklund's website.
9:29pm. Reese Witherspoon presents Best Supporting Actor. Mo'Nique really was busy, we guess, or just is over it!
9:27pm. Susanne Bier wins Best Foreign Language Film for In a Better World. "Is this a real Oscar?," Bier asks, Melissa Leo-ninely.
9:26pm. Russell Brand is for some reason throwing shade at Colin Firth. Why does Brand shout everything?
9:25pm. James Franco is ripping off Madonna ripping off Marilyn Monroe. #bornthisway
9:24pm. So this whole "On My Own" number is a reference to how Anne Hathaway sang at the Oscars two years ago? That's a little meta.
9:23pm. Anne Hathaway is wearing Charlie Chaplin's "vintage" tux. She's singing the great movie song "On My Own," from cinema classic Les Miserables.
9:19pm. He thanks the Queen, and all stutterers.
9:17pm. Inception clip–remember when Ellen Page was an Oscar nominee? (She, like, always will be, but still.) Javier Bardem pronounces "Cholodenko" so musically! The King's Speech wins. He makes a "Writer's Speech" joke, because okay.
9:14pm. Toy Story 3 is, for real, an adaptation? Aaron Sorkin wins for The Social Network. He name-checks Paddy Chayefsky, because of course. The speech is mercifully free of strange demands upon women or outre weirdness–until the moment he demanded more respect from his daughter's guinea pig! The slow build of music as he just kept talking was so Inception-y.
9:11pm. Josh Brolin and Javier Bardem–in a mini-No Country for Old Men reunion–both wear white dinner jackets and white tie to present Best Adapted Screenplay.
9:05pm. Best Animated Feature, preceded by mercifully less Kunis-Timberlake banter (though still a Banksy joke!) goes to Toy Story 3. Thank goodness there's a category reserved for adults who think they're still kids and like kids' movies!
9:03pm. Best Animated Short goes to The Lost Thing. Okay!
9:02pm. Mila Kunis and Justin Timberlake seem more stilted, even, than most presenting pairs! These two are making the fake No Strings Attached? The backdrops, too, are far less dazzling an innovation than the producers imagine.
9:01pm. Picking up the slack from Anne and James, Melissa Leo and Kirk Douglas salvage the night's humor. Leo pretends to need Douglas's cane and mimes limping away.
8:59pm. So thrilled Melissa Leo thanked the Fighter daughters. She is speechless, realizes there are multiple tiers. She cursed when considering the size of the theater. Neither Christian Bale nor Dicky Eklund, both of whom Leo thanks, are in the theater. That Kirk Douglas intro was smoke-break length. Parental guilt-trip alert for Melissa Leo's son in South America. "I'm okay!," Melissa says. Okay!
8:53pm. Melissa Leo, duh, mugs for the camera in her minute on camera. Kirk Douglas is going very, very deeply off-script. In the most closely contested race of the night. Melissa Leo, The Fighter, wins. She asks Douglas to pinch her. this is a comedy team waiting to happen. Kirk Douglas is forcibly pulled offstage to let Leo speak.
8:51pm. Kirk Douglas congratulates Franco on getting "out of the cave," gives requisite congratulations to Anne Hathaway on her beauty. This is lovely, but it's too bad we can't check in with Christoph Waltz this year!
8:49pm. Wally Pfister thanks "my master, Christopher Nolan." Nice of Nolan to let Pfister out of the dungeon for the night!
8:48pm. Best Cinematography: Wally Pfister, Inception. Can Christopher Nolan fans stop pretending his films are underappreciated now? His glasses certainly make a good headband.
8:47pm. That was quite the hat that guy placed on his little Oscar!
8:46pm. So, are anyone's Oscar predictions intact one award in?
8:45pm. Best Art Direction: Alice in Wonderland. There will be no sweep! Tim Burton looks annoyed. He's this awards show's Eminem!
8:43pm. Does the fact that they're talking about movies to sweep Best Picture, Art Direction, and Cinematography mean that The King's Speech sweep has already begun? Fun! Unpredictable!
8:42pm: Huh. So, those were the Gone With the Wind titles!
8:41pm. Was the song "Jennifer's Body" written about Jennifer Lawrence?
8:40pm: Don't hosts sometimes recognize relevant actors, not just Anne Hathaway's mom?
8:39pm. This show should lose awards for Sound Mixing.
8:38pm. "Oh my god, you're all real!" Do you think Anne Hathaway sees people as fully formed humans, or just as fans and potential fans?
8:37pm. So happy the Oscars are doing a tribute to Back to the Future! Zeitgeist-y!
8:36pm. They really ought to have had Hathaway as Portman's black swan rather than that Turkey Lurkey Time thing that just happened.
8:35pm. Hathaway did not take accent lessons at Meryl Streep's knee, it would seem! Also, where's the Winter's Bone sketch?
8:34pm. Anne Hathaway proves that acting in a Boston movie requires certain, particular, and underrated accent skills.
8:33pm. Post-Billy Crystal-era, montages like this are more reminiscent of the Video Music Awards's "Sex and the Matrix" than anything worth remembering. But this is a super-accurate take on Inception, and Alec Baldwin is, per usual, the best part of everything!
8:32pm. Wait, no Neil Patrick Harris?
8:31pm. This montage features only Black Swan, The Fighter, The Social Network and The King's Speech, really. Sorry, 127 Hours!
8:30pm. So are they doing the movie clips montage with "funny" insertions of hosts? Will the English Patient plane crash on Anne Hathaway?
8:26pm. BREAKING: Tom Hanks is not presenting Best Picture. (For those who are paying attention, this is the only really suspenseful part of the night.)
8:25pm. Halle Berry, in the "green room" interview, is speaking in the "sexy baby" voice from this week's 30 Rock. Is there a "Speak Quietly and Awkwardly" sign above Krista Smith's head?
8:24pm. America voted for Roberto Benigni's speech as FAVORITE of all time? Did everyone get Inception'd and forget Julia Roberts?
8:22pm. One wonders if Hugh Jackman wishes he were hosting or if it's a "goodbye to all that" kind of things. His weird, movie-star-y hosting gig was Anne Hathaway before Anne Hathaway was Anne Hathaway.
8:20pm. Every actor interviewed is rooting for his or her movie, except Matthew McConaughey, who says "The Social Network" in the most McConaughey-ey way you could imagine. I feel like he just likes Facebook. I wonder what his fake name is on the site! Probably "Bongos McC."
8:17pm. They're going to talk to Hugh Jackman when they come back from commercial. I hope David Letterman is there too!
8:15pm. Gwyneth Paltrow was told not to venture "too far into the avant-garde" fashion-wise. The "dressing like an Oscar" trope is used too often with gold lamé but here it actually applies.
8:12pm. Nicole Kidman's Australian accent is perhaps more pronounced than it's been, unless we're already losing our minds to Oscar fever. Robin Roberts is asking what she listens to in the limo. Maybe "Teenage Dream"?
8:08pm. Ben Mankiewicz just compared Colin Firth to the Green Bay Packers. I feel like more viewers across America just looked nonplussed than during the confusing Valentino interview.
8:07pm. "Has motherhood changed Sandra Bullock's approach to acting?" Uh, how would she know?
8:05pm. Krista Smith asks James Franco if he gets extra credit, "for school," for hosting. Wait, is he in school?
8:04pm. Krista Smith and James Franco are having an interview/slow-talk-off.
8:01pm. Jennifer Hudson–she won an Oscar! Robin Roberts to Natalie Portman, slowly: "Everyone is talking…about how well…you have been doing…in this season!" Natalie Portman nods, ponderously. She is neither wearing black, white, nor red–so much for themes!
7:53pm. Reese Witherspoon's ponytail is ripping off Lady Gaga ripping off Madonna.
7:51pm. Geoffrey Rush bald doesn't "work" as well as it does for, say, Bruce Willis! We see why he was wearing a hat!
7:50pm. "I couldn't feel more like a princess-slash-movie star," says Anne Hathaway, "ironically." The Oscar for smugness goes to–well, probably everyone.
7:48pm. Anne Hathaway has been on the red carpet forever–where is James Franco, though? Probably off with Banksy, somewhere.
7:44pm. Valentino and Anne Hathaway are being interviewed by Tim Gunn–Hathaway is apparently on vocal rest as we discuss the Valentino museum in the South of France!
7:43pm. In honor of The King's Speech, Annette Bening practiced over-enunciating every word! "Julianne fell in love with [Mark Ruffalo] in the movie, and I fell in love with him in life." That's not how we interpreted the movie! "You're already a winner tonight!" says Robin Roberts. The consolations begin!
7:40pm. Maria Menounos, with a question that didn't need to be asked: "Matthew McConaughey, would you rather be surfing?"
7:39pm. A long pause erupts when Robin Roberts says she wants to find out where Justin Timberlake is on the carpet. Information not forthcoming.
7:37pm. Scarlett Johansson reveals the greatest Oscar secret of all–attendees often bring their own snacks!
7:35pm. Ben Mankiewicz predicts that Melissa Leo's self-financed ads will hurt her! Poor Melissa Leo also didn't win the ABC viewers' poll–she's no Helena Bonham Carter, it would seem.
7:34pm. Who'd have guessed Marisa Tomei would be the early 1990s Oscar winner to endure?
7:31pm. Mark Ruffalo's wife is being personally thanked by Robin Roberts for encouraging him to take The Kids Are All Right role. Thank you, Sunrise!
7:29pm. Mark Wahlberg's mom needs to get cast in the next Boston movie.
7:23pm. We are set to hear the "most beautiful 'Somewhere Over the Rainbow' you've ever heard.' See you around, Judy Garland!
7:21pm. Is this a Music of the Heart/Mr. Holland's Opus homage? Or just another, inexplicable thing?
7:19pm. The school chorus is the year's Snakes on a Plane contortionists.
7:17pm. Melissa Leo! A Facebook user asked her if she only likes playing complicated women. Good question!
7:16pm. Russell Brand's mother is so Russell-Brand's-mother-y. She'd be played by Lesley Manville in the movie.
7:15pm. Amy Adams is at the Oscars so frequently and yet it's hard to think of something to say about her! Kevin Spacey is openly rooting for Annette Bening: "She's one of the great actresses we have ever produced."
7:08pm. They should replay Cuba Gooding, Jr.'s speech every Oscar night–or just every night, forever.
7:05pm. Hailee Steinfeld is so polished, it's a bit creepy–but not in that Fanning-y way, just super well-trained! She looks appropriately girly in pink with a headband–all True Grit memories are banished. Jesse Eisenberg compares the event to the Super Bowl, fumbles over a question about how he handles attention.
7:04pm. Tim Gunn gets the most Oscar-pre-show-y question out of the way early, to Mila Kunis: "What is more challenging–walking the red carpet in stilettos or dancing in toe shoes?"
7:03pm. The ABC pre-show coverage is quite the thing. "Is the green room really green?" Probing questions, answered!
7:00pm. The madness begins! We'll be liveblogging all night–stay tuned once the part worth watching commences!
ddaddario@observer.com :: @DPD_