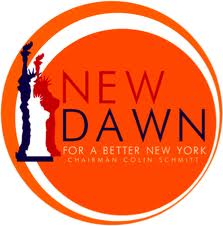 The Political Action Committee New Dawn has begun a campaign to end the practice known as "double dipping" in which state employees can begin drawing from their pensions while still being paid full salaries.
The Stop NY Double Dip campaign is distributing a petition calling for legislators to close a loophole that enables the practice and to support a bill sponsored by Senator Greg Ball and Assemblyman Michael Fitzpatrick that would move politicians from taxpayer-guaranteed defined pensions to 401(K)s.
"As the hard working citizens of New York struggle to make ends meet, career politicians shrug off their responsibilities as elected representatives of the people in order to seek personal gain," New Dawn chairman Colin Schmitt said in a press release. "What we are seeing with the 'Double Dip' pension scandal is nothing more than politicians stabbing their constituents in the back."
Beneficiaries of the double dip loophole include Assemblyman Brooklyn Democratic party grandee Vito Lopez, who filed retirement papers recently despite being elected to his 14th term in office. As a result, he now draws an annual pension in addition to his salary.
The campaign's website, including the petition, can be found here.