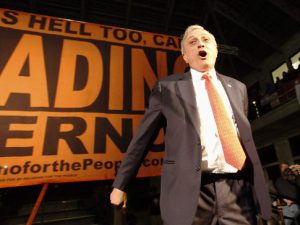 The election is long since over, but Carl Paladino continued to keep the hear on Andrew Cuomo, accusing him in a Facebook post published today that slammed him for accepting a plea deal from former Comptroller Alan Hevesi and going above the head of the state's judicial system. The release accuses Cuomo of corruption during his time as Attorney General and vilifies the "shallow press" for its lack of scrutiny into the matter.
The case centers on a statement Cuomo made during the 2010 gubernatorial debates: "If you break the law, you will go to jail." Paladino said the governor fixed deals with corrupt government officials, acted beyond the limits of his power as Attorney General, and misled the public and the press.
"Cuomo fixes the deal," Paladino said, "and in return gets endorsements and money from club members at election time for keeping the boys out of jail and the establishment and status quo alive and well in Albany."
Hevesi was implicated during his time as Comptroller when then-Attorney General Cuomo launched an investigation into the state pension fund and uncovered a major pay-to-play kickback scheme being conducted by Hevesi's administration. Political consultant Hank Morris was just sentenced to sixteen months to four years in prison for his involvement in the crime (the maximum allowable penalty for a class-E felony), but Paladino claims that Cuomo fixed a deal with Hevesi in which the former comptroller would receive no jail time in exchange for his cooperation with prosecutors. The former gubernatorial hopeful also points to the cases of Charlie Rangel, Steve Rattner, and Patricia Lynch as examples of Cuomo's alleged I'll-scratch-your-back-if-you-scratch-mine system.
"All pigs are equal but some pigs (like Rangel, Rattner, Morris, Lynch and Hevesi) are more equal than others," Paladino said. "They are complicit with the parasitic ruling class, became careless gaming the system, got caught, know too much and might weaken in the face of imprisonment and seek to spill the beans on others in the friends and family club."
Paladino recommends that AG Schneiderman upgrade Hevesi's charge to a Class C felony, which carries mandatory jail time. The former comptroller is scheduled for sentencing on March 10th.