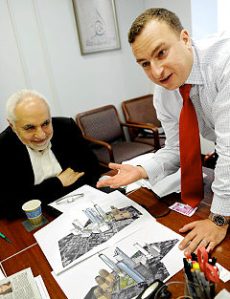 When a controversy surrounded plans for the Park51 Islamic Community Center this summer, the project a few blocks from the World Trade Center site came under assault from all sides: 9/11 families, politicians, firefighters, construction workers, priests, you name it. Yet now it seems the greatest threat to the controversial would-be-Y comes from within, as the developer of the Park Place project battles for control, if not for the community center itself then at least for its message.
Last week, Imam Feisal Abdul Rauf, the well-known interfaith leader who helped found the project with developer Sharif El-Gamal, told The Buffalo News, "If someone is willing to offer another site… I would move. I would move because my whole life is about improving relationships with people, and once the project is established, it will have an impact."
Now if only he could work on improving his relationship with El-Gamal. As The Times points out, this is not the first time Imam Feisal has made such statements, and that is part of the reason the he is less involved with the project, according to the paper.
Differences between Mr. Gamal and Mr. Abdul Rauf, which were apparently papered over during a summer-long storm of opposition to the project, led to their recent split, which Mr. Gamal announced unilaterally on Jan. 14. In a statement then, Mr. Gamal said Mr. Abdul Rauf would no longer raise money for or speak on behalf of Park51, though he would remain one of four on its board of directors.

On Monday, Mr. Gamal issued a statement reiterating his independence from the imam: "As we have been stating for over a year now, Park51 is not moving its location under any circumstances. Imam Feisal has no authority or control over this project, over its board of directors or over Soho Properties, which controls the real estate. Park51, the Islamic Community Center in Lower Manhattan, is more than any one personality or imam."
And so Sharif El-Gamal remains determined as ever not to back down from his vision. The question now is whether he can win the support he needs without the popular and influential imam at his side.