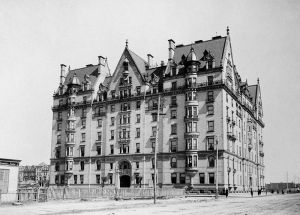 Imagine all the people, living life in peace… well, not at the Dakota.
A city-shattering lawsuit has been filed by Wall Street tycoon Alphonse Fletcher Jr. alleging that the board of the storied Central Park West co-op has a grave history of discriminating against not only applicants but owners like Fletcher, who has two apartments there. The banker, a resident since 1992, brought the suit after he tried to buy a neighboring apartment and was allegedly denied by the board for suspicious reasons.
The lawsuit's explosive allegations include claims that board members made ethnic slurs against prospective residents, including describing one couple as part of the "Jewish mafia" and suggesting that a Hispanic applicant was interested in a first-floor apartment so that he could more easily buy drugs on the street. The applicant, who was rejected, was married to a "prominent financially well-qualified white woman," according to the suit, and though neither is named, the timing and circumstances suggest that it was [Antonio] Banderas.

The suit accuses the board of several other instances of treating minorities unfairly, including repeatedly denying another black owner — the singer Roberta Flack — permission to install a new bathtub and then joking about it. Mr. Fletcher also accuses the board of self-dealing: shortly after his request was denied last year, a member of the board who lives on the same floor put her own apartment up for sale, offering it as a package deal with the apartment Mr. Fletcher wanted to buy.
Could that last fact, a spurned sale, be the real reason for the suit? The Dakota's board denied any wrongdoing to The Times, saying this was simply a matter of Fletcher's financial situation.
And while Antonio Banderas, apparently the "Hispanic applicant" alluded to in Fletcher's lawsuit, never moved into the Dakota, there are indeed a number of minorities who do or have lived in the building. In addition to Roberta Flack, there is Yoko Ono, Paul Goldberger, Connie Chung and José Vicente Ferrer de Otero y Cintrón. Perhaps it's just that Fletcher is not one of the building's numerous artistic types.
Now something could dispel the prejudicial pretenses for good. It looks like the board of the Dakota may allow a former butler for one of its owners to finally move into a studio he inherited. The Journal reports that Indra B. Tamang, the former employee of actors Ruth Ford and Zachary Scott, has just gone to contract on another apartment Ford had willed to him, a three-bedroom unit that looks to have fetched $4.5 million.
For a time, it looked like the board might not allow someone so lowly to live in the building, according to The Journal, but it appears an exception has been made.

But the board, which usually operates under a deep cloak of anonymity, issued a rare statement saying that Mr. Tamang's "prior capacity as an employee of a Dakota resident would not adversely affect our decision about his residing here."

"We at The Dakota are proud that for many years ours has been an extraordinarily diverse community of residents," the statement said.
Tamang has spent four decades in New York, but he was born in Nepal. If he's allowed in, the former butler will certainly become a working-class hero.