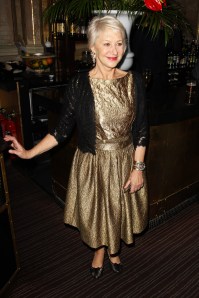 Which celebrity reportedly had his motorcycle customized–with slave labor?
Who is "the most vile and inhuman person in the universe," according to a Christian website?
What magazine claimed Sarah Palin wanted to deport Christina Aguilera?
Who's coming to Broadway for eight nights?
What's number-one on next week's Billboard 100?
Which Vogue cover girl is forecast to get the 1,000th number-one ever next week?
Who isn't leaving?
Who thinks Kyle MacLachlan is a better conversationalist fodder than Bill Clinton?
Which movie features Helen Mirren as a grown man's nanny?
Which comedian, according to Fortune, has mastered multiplatform entertainment–even if he's not top-rated?
Extra Credit: Is the Nikki Finke photo real? Use the space provided to explain your answer.
ddaddario@observer.com :: @DPD_