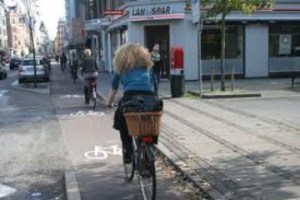 Council Speaker Christine Quinn and the City Council are stepping up their oversight of the administration's efforts to boost pedestrian and bicycle safety.
The Council passed three bills today, two of which will expand the amount of data available on crashes, from recording the details of bicycle accidents to requiring the Department of Transportation and New York Police Department to disclose statistics about crashes. A third will require the DOT to explain why it denies requests for traffic control devices like stop signs or traffic lights.
"All of these bills have one common theme and the common theme is the rules of the road are for everyone," said Transportation committee chair James Vacca. "Whether you drive a car or drive a bicycle, the rules of the road apply to you. We have too many people in our city who are part of the problem instead of part of the solution."
Quinn said that more data will illuminate which precincts or intersections need to be made more safe, noting that the success of bike lanes varies from neighborhood to neighborhood. She rebuffed a question suggesting that a proliferation of bike lanes posed a clear danger.
"I think that allowing people who want to ride their bikes around city and who want to ride their bikes to and from work, finding ways that they can do that safely is a good thing," Quinn said. "I also think we need to find ways, and the administration has said this themselves, to give communities a better voice in that process."