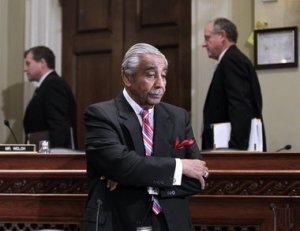 Charle Rangel raised some eyebrows earlier this week when he announced that he would seek a 22nd term in Congress. Yesterday on "Good Day New York" he seemed less certain.
"This is an intention I have at this time," he said. "You recognize that even though I get over 80% of the voters vote, that was a couple of months ago. I don't know what the voters will think or what the economy will dictate we have to do. Unfortunately when you have a two-year contract you have to send a signal to the Federal Election Commission, which I did, but nothing is locked in stone. I have to talk to my voters and my community leaders and all of those things."
Many up in Harlem thought that there was even a possibility that Rangel would not finish this term, considering the embarrasment of the censure vote and the fact that Rangel had to give up the gavel of the House Ways and Means committee.
The Harlem congressman also talked about the federal budget and he was asked about his relationship to President Obama. Obama appeared to nudge Rangel out the door last year when he was being engulfed by scandal.
Rangel disagreed with that assessment. "I don't see how the President could have been of any help to me. I didn't ask for it. I sure didn't get it."
He also added that Obama was "most compassionate" president he has known.