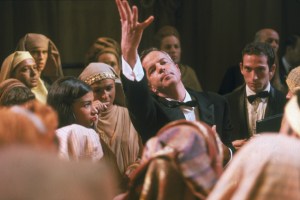 The first opera production I ever saw was a Franco Zeffirelli production. As was the one after that. And the one after that.
If you started going to the Metropolitan Opera in the '80s or '90s, chances are that Mr. Zeffirelli's work was the first thing you saw. After all, he directed the classic introductory operas: La Bohème, Tosca, La Traviata, Cavalleria Rusticana and Pagliacci, Turandot, Don Giovanni, Carmen.
And he did them huge, hyper-detailed, jam-packed with extras, strewn with live animals: just the way you imagined opera would be. At their best, Mr. Zeffirelli's productions created new worlds.
But a show can't be revived for decades without getting a little stale, and even by the director's heyday, "Zeffirelli" was already a derogatory word, a euphemism for a stodgy, hopelessly conservative Met that valued bland opulence over drama. Nothing has more established the aesthetic of the company under its current general manager, Peter Gelb, than replacing Zeffirelli productions with more modern (if not always more effective) ones, like the radically spare Willy Decker production that recently replaced Mr. Zeffirelli's decadent 1998 Traviata.
From his 1964 debut directing Verdi's Falstaff to his 1998 Traviata and beyond, Mr. Zeffirelli was central to the way the Met was perceived by the public–first as involvingly detailed, then as increasingly sclerotic. Many of Mr. Gelb's reforms, both onstage and off, could be classed as the de-Zeffirellification of the Met.
But if Mr. Zeffirelli's work grew increasingly self-indulgent and he is now best known as a tetchy old man who makes snide comments to the press about the decline of opera production, it's worth remembering that he is a great artist and was once an auteur with as strong and thoughtful a vision as that of Mr. Decker or Peter Sellars.
Right on time to jog these memories, a coffee-table book devoted to the director has been published. Franco Zeffirelli: Complete Works is to ordinary books what Franco Zeffirelli productions are to ordinary productions. It's massively unwieldy, deliriously garish. It's also gorgeous and fascinating.
The book's frontispiece is the end of Mr. Zeffirelli's Met production of Don Giovanni, in which the characters, framed by a set of classically receding prosceniums, face an upstage backdrop of clouds seen after a storm. It is spare, muted, lovely, the anti-"Zeffirelli." But turning the page, you're confronted with the Zeffirelli-est: his 2006 La Scala Aida, its colors saturated and lurid, the gigantic set dwarfing the singer.
The book keeps throwing you between these two extremes and opens up entire decades of his career that have been largely forgotten. His sheer productivity and variety are dizzying: He made 10 productions in 1964, ranging from a lovingly detailed, freshly rethought Renaissance Falstaff to a cool, geometric version of Arthur Miller's After the Fall.
Mr. Zeffirelli was born in Florence in 1923. His mother died when he was 6, and he was raised partly by a group of elderly English expatriate women. In 1945, he entered the vibrant postwar Florentine arts scene, wanting to become a stage designer, and he soon met and started working with the up-and-coming director Luchino Visconti. The two shared, as Giovanni Gavazzeni writes in an essay, the goal of "a historical reconstruction that was inspired by a poetical vision," a stagecraft both realistic and stylized.
In 1953, Mr. Zeffirelli did the design for a La Scala production of Rossini's L'italiana in Algeri, and was asked back to direct that composer's La Cenerentola the following year. The production was the epitome of Mr. Zeffirelli's syntheses of past and present, combining 18th-century costumes with a pale, cleanly lit palette. A series of successes followed in Milan, Palermo and Genoa, but it was in 1958 in Dallas that he had his breakthrough, with a production of La Traviata starring Maria Callas.
With a few exceptions, audiences adored him, even if the critics grew skeptical. Sybil B. Harrington, the queen of the Met's board in the '80s, also loved him, and funded production after pricey production.
After John Dexter introduced a more contemporary theatrical aesthetic to the Met in the late '70s, Mr. Zeffirelli began seeming stiff. By the '90s, his preparatory drawings were still glorious, but the results had become simultaneously overstuffed and undernourished, the director more interested in the sets than the characters that inhabited them.
It may be that Mr. Zeffirelli began to concentrate more on the décor than the action because, unable to supervise every revival personally, he wanted to create a structure that could survive any cast, any night–and, more poignantly, survive the director himself.
But even as we make fun, it's hard for us who saw his work in our youth to stop instinctively feeling that that is opera and embrace an aesthetic more challenging and true. A time will come when no one is introduced to opera through Mr. Zeffirelli's seductive but limited vision, and that's probably a good thing. But it might take a while: Peter Gelb recently said he had no plans to replace Mr. Zeffirelli's Bohème and Turandot. "So you can rest easy," he said in his dryly comic way, and the audience applauded.
editorial@observer.com