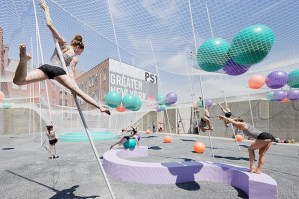 Longtime PS 1 veteran Tony Guerrero is out at the Museum of Modern Art satellite, and insiders said more departures are expected.
In an email sent to friends and colleagues yesterday and today, Guerrero said he was leaving March 1 after 17 years and "My commitment to this incredible art center was the essence of my life in New York. I will miss it."
The Director of Exhibitions and Operations has served under three different ersatz heads of the institution — Alanna Heiss, Klaus Biesenbach and Peter Eleey, currently the head curator — and has also served as something of a popular liaison between the institution and its artists there.
Biesenbach's reign — he has kept the director title at PS 1 even after moving on to MoMA proper as chief curator at large — has been marked by a much higher profile for the institution, still better known for its weekend parties than for its arts shows, and by some controversy. He drew censure for shutting off the lights during one performance artist's piece last year (she had spilled urine and was engaging in an argument with someone in the crowd). Mr. Guererro is the second recent departure, after the institution's head of public relations, from the small operation.
In his resignation, he noted "I had the extraordinary opportunity to work intimately with the greatest artists, the most brilliant curators and the finest administrators of our time" also adding later "Each one of us was a link of the chain, no one was alone." Interesting timing: his announced departure comes a day before MoMA director Glenn Lowry's annual breakfast with members of the press, so it will likely get increased attention.
PS 1 was founded in 1971 by Alanna Heiss as the Institute for Art and Urban Resources, an group devoted to hosting art exhibitions in empty spaces across New York; in 1997, it reopened after a renovation of its home in Queens, a huge former grammar school where classrooms now make for galleries. In 2000, P.S.1 Contemporary Art Center became an affiliate of the Museum of Modern Art, and later became MoMA PS 1. The merger was actually phased in over seven years, and only recently did MoMA take control of the center's finances.
PS 1 occupies a unique role in the city: center of experimentation, influencer of trends, namer of the next hot names. A year-round Whitney Biennial with the imprimatur of MoMA, some of the art world's bigger young stars-Dana Schutz, Jules de Balincourt, Matthew Day Jackson-have come out of P.S.1 shows. Collectors have used its catalogs as shopping lists, often to good effect. It has single-handedly lowered the average age of museum attendance in New York.