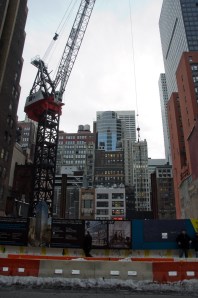 About 90 percent of all diamonds that enter the U.S. pass through New York's diamond district, though you'd never know it walking down West 47th Street, a warren of grimy aluminum and puffy-coated hawkers, the claustrophobic energy of deal-making, all of it crammed like carbon atoms into a one-block expanse.
But to Gary Barnett, diamond merchant-turned-real estate tycoon, the decidedly unglittery street is just waiting to be buffed to the high sheen of a superluxury trading center. Though his 34-story International Gem Tower has been slow in getting off the ground, Mr. Barnett is vowing that, in the coming year, its 11,000 tons of structural steel will finally go vertical.
SLIDESHOW: A trip through the Diamond District >>
Like many of the district's early founders who fled Europe in the 1940s, Mr. Barnett emerged on 47th Street in the 1990s by way of Antwerp's famed diamond trade. But as a developer, he's found himself at odds with many of the street's jewelers, setters, cutters, and polishers, who fear that the new tower, heavily subsidized by municipal tax breaks, will rupture their industry's crystalline equilibrium.
The International Gem Tower was recently declared a foreign trade zone by the federal government, and the state and the city have put forth $49.6 million in tax breaks tied to drawing new businesses—necessary, Mayor Bloomberg says, to make New York competitive with the global gem markets of Shanghai, Dubai and Las Vegas.
egeminder@observer.com