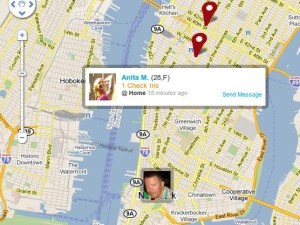 SNAP Interactive — the company that unleashed AreYouInterested.com on the world, amassed 35 million users, saw its stock price skyrocket and raised $8.5 million in a private placement — has launched a beta version of its latest app, WhoIsNear.com.
Unlike the dating-centric AreYouInterested, WhoIsNear focuses on informing users as to the whereabouts of their Facebook friends. From there users can choose to chat or meetup, similar to New York based startup Meet Moi.
Founders Cliff and Darrell Lerner are quick to point out that WhoIsNear is not a dating app. AreYouInterested and WhoIsNear are "entirely separate propositions," Cliff told The Observer by phone, although he noted that WhoIsNear is intended to deploy the Facebook integration that made AreYouInterested a success.
Although a recent Bloomberg report highlights the retail potential for location-based services, and services like Meet Moi have partnered with bars and restaurants on deals, the Lerners say they aren't concentrating on retail opportunities at the moment.
"Our goal right now is to have the best in class product" and gain a significant advantage over competitors, said Cliff. Unlike other location-based mobile applications, WhoIsNear allows users to deploy existing social connections, so they immediately get the most out of the service. "You do not have to build up your social graph at all." Beyond that, the brothers say, the product offers the chance to chat in real-time with friends, something similar apps don't necessarily offer.
Revenue will come in time, said Cliff. "We have 35 million users to market to. We believe we know how to grow products quickly."
mtaylor [at] observer.com | @mbrookstaylor