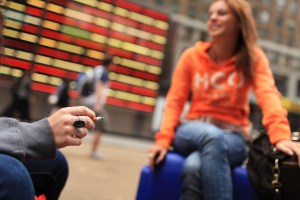 New Yorkers can breathe a little easier, unless they're smokers, in which case their pulses must be racing: By the spring, when prime park season returns, it will be illegal to light up on the city's greens, following the passage of another smoking ban by the City Council yesterday.
"The statistics don't lie–second hand smoke kills. With this bill, all New Yorkers can now breathe easier and breathe cleaner air," Council Speaker Christine Quinn said in a statement. "No one should have to inhale deadly cigarette smoke when they go to a park or beach." Mayor Bloomberg underscored the public-health benefits of such a program: "Our efforts over the last 9 years have resulted in more than 350,000 fewer smokers, and contributed to New Yorkers living 19 months longer than they did in 2002."
The council vote was 36-12. Some no votes were cast on libertarian grounds, others on the basis that this could serve as a means for racial profiling.
Pedestrians will still be allowed to smoke on the sidewalk and in parking lots, though a lot of good that does while enjoying a picnic or watching the philharmonic in the park. And Gothamist points out that even those areas will be prohibited soon, as smokers are relegated to Cemusa-designed "designated shame shelters."
The ban also applies to all those new public plazas like at Times Square and the one proposed for Astor Place. Maybe this is a stealth effort to drive away all the European tourists and college students, then.
mchaban@observer.com