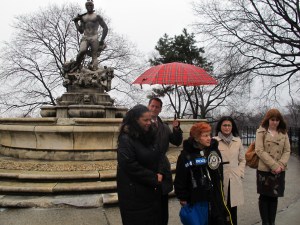 Anthony Weiner is putting his own ad for a naked man on Craigslist.
The wiry congressman was at Queens Borough Hall this afternoon, calling for a twenty-foot marble statue of a nude man–standing atop two women–to be removed and placed on the "free stuff" section of Craigslist.
"It doesn't represent civic virtue of any sort, it represents an eyesore," said Weiner, who called the statue sexist and complained that he can see it from his office window.
He was joined by Councilmember Julissa Ferreras, who chairs the Council's Women's Issues Committee, and representatives from the Eleanor Roosevelt Legacy and the Queens County Young Democrats Women's Caucus.
The offending item was originally in City Hall Park, but was moved in 1941 when Mayor Fiorello LaGuardia sent it to Queens after he reportedly got sick of being mooned every time he went outside.
The statue was intended to depict civic virtue triumphing over vice and corruption; Weiner listed it under the headline: "For Sale: 22-ton (sexist) marble "Triumph of Civic Virtue" statue by renowned sculptor Frederick MacMonnies."
But, just like an old futon, transporting the item is not included in the price, and it's unlikely to fit in anyone's zipcar. "We wanted to put it on Ebay but you had to put in how much it would cost to ship it, and we couldn't find anyone at the UPS store who would give us a quote on a twenty-foot naked marble man standing on two naked women," he said.
So Weiner sent a letter today Edna Wells Handy, Commissioner of Department of Citywide Administrative Services, to have the statue removed. If that doesn't work, he said he'll look into pricing tarps.
During the press conference, Weiner turned the podium over to his opposition, a man who claimed that that the women depicted are allegorical sirens out of Homer, not humans, and therefore not offensive.
Although listing the statue on Craigslist was Weiner's idea, he professed ignorance about the site that recently led to the resignation of his delegation-mate, Christoper Lee.
"I'm not a Craigslist kind of guy," Weiner said.
Here's the ad, which an aide to the congressman said would be posted later today:
Sexist Statue for Sale

For Sale: 22-ton (sexist) marble "Triumph of Civic Virtue" statue by renowned sculptor Frederick MacMonnies.

Own a (tasteless) piece of New York City history! Triumph of Civic Virtue created by sculptor Frederick MacMonnies – the artist behind iconic figures such as the Quadriga in Brooklyn's Grand Army Plaza – is now up for sale for a limited time.

This controversial and offensive statue crudely depicts a young man with a sword triumphantly standing over the defeated bodies of two women. In 1941, then-Mayor Fiorello LaGuardia had the good sense to banish the figure from its initial location in City Hall Park.

Unfortunately, it ended up in Kew Gardens, where it remains to this day.

Now, community leaders want to see it go.

All proceeds from the sale of this sexist eyesore will benefit the city of New York. Shipping is not included.