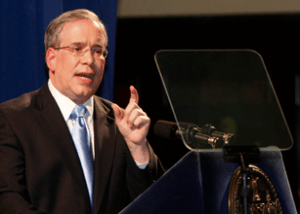 Arguing that New York has been too reliant on a "closed, top-down model of government," Manhattan borough president Scott Stringer will call for a "new partnership" between New Yorkers and their government in his State of the Borough address tonight.
In it, Stringer will lay out the broad themes that are expected to animate his 2013 mayoral campaign, a campaign likely to be based on his history of finding community-based solutions to urban ills, including education, affordable housing and crime prevention.
The Bloomberg administration, despite a widely admired administrative competence, has often been criticized for turning a tin ear to the needs of New Yorkers, especially in the outer boroughs and among public school parents. Stringer has made greater participation in government a cornerstone of his administration, and in his address tonight he is expected to specifically mention the need to encourage development while safeguarding neighborhoods and to improve public schools while listening to parents.
Stringer is also expected to call for a paid sick leave bill, something that puts him in opposition to Council Speaker Christine Quinn, who has been criticized by advocates for not bringing such a bill to the floor.
And in addition to touting a number of local sucesses, including the rezoning of West Harlem, new green food initiatives and relief for small businesses and residents who have been disrupted by the construction of the Second Avenue subway, Stringer will talk up some initiatives far away from the shores of the East and Hudson Rivers, including a plan to bring more banks to the outer boroughs, and a push for better immigration and environmental policies at the federal and state levels.
The address will be held this evening at the Graduate Center at the City University of New York.