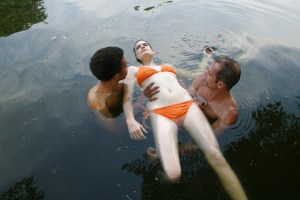 Laurel Nakadate told the young girl to strip to her underwear.
"Why don't you take your shirt off?" Ms. Nakadate said. "You know you're the prettiest girl, right? Let's see your panties."
The exchange was projected on a screen in a gallery at P.S.1. It was staged. Ms. Nakadate filmed it for a video, Good Morning Sunshine, that is part of her first museum retrospective, titled "Laurel Nakadate: Only the Lonely." The girl undressing was an actress who auditioned for the part in an open casting call, and she was very young. Ms. Nakadate's voice sounded manipulative, menacing even.
Right on cue, when Ms. Nakadate said, "Let's see your panties," a mother walked into the room pushing her child in a stroller. She looked at me–horrified–then around the room, then smiled awkwardly at one of the walls, unsure what else to do. The smile transformed quickly into a deep frown, and she rushed out of the gallery as fast as if she had mistakenly walked onto the set of a snuff film.
Striking, with straight black hair and a mischievous smile, Ms. Nakadate looks younger than her 35 years. She calls her work a "hybrid of fact and fiction." Her themes are voyeurism and exploitation. She attacks convention. We expect the voice coaxing the young girl out of her clothing to belong to a man with a criminal record. (Or perhaps, as one museum guest put it in the coat-check line at P.S.1, "It's like, uh, about feminine identity.")
Ms. Nakadate's latest work, A Catalogue of Tears, on view in the main room of the exhibition, is a series of 365 photographic prints of the artist crying or pretending to, each one taken on a different day in 2010. The documentation is less about moments in the artist's life than the interruption of that life to continue the performance. A Catalogue of Tears is the culmination of a career spent mining this theme. Ms. Nakadate's two feature-length films star non-actors. She films in the homes and bedrooms of the people onscreen. Her videos focus on her interactions with strangers, mostly older men she meets through chance encounters (in the elevator of her apartment building, in the parking lot at Home Depot). She will give her subjects a scenario–pretend it's my birthday and eat this cake with me–and film what happens. A kind of twisted documentary emerges: real people–actor, artist and audience alike–responding to highly contrived situations. She pushes and distorts the idea to the extent that both real and fictive are indistinguishable. Often it is difficult to tell when reality stops and fiction sets in. In other words, are the tears real or fake?
"The way I work isn't that strange," Ms. Nakadate told me. "I'll take this body and I'll take this idea and I'll put it out into the world and see what happens and how chance takes over."
Her most recent film, The Wolf Knife, shot over 10 days in Florida for a budget that was "about two months' rent in New York City," is about two adolescent girls, best friends, on an ill-fated road trip. We stood watching it in a room with the lights off, while two people helping with the installation drilled seats into the ground and adjusted the volume levels. Ms. Nakadate appears onscreen only briefly, but she fills the story with self-reference.
"We're going to see a guy who used to teach you in third grade?" one girl says to the other. "How do you know he's a nice guy?" The camera is uncomfortably close. As with much of Ms. Nakadate's work, we feel as if we are intruding on a scene we were never meant to witness.
"He might ask me to live with him, which would be really great," the other girl responds.
"It would be really creepy, he's, like, 50."
In conversations about Ms. Nakadate's work, the word "creepy" often comes up, as does the question, "How does she know the stranger's not gonna kill her?" Ms. Nakadate says having faith in strangers is about "gut instinct." She trusts the men in her videos. Later in The Wolf Knife, a mother of one of the girls says to the two, "You're not gonna want to hear this, girls, but there's a rapist in the area." Her delivery is almost cheerful, as if she were asking them what they want to eat for lunch.
As we watched, the scene shifted to the girls on a beach in Hollywood, Fla., at night. "The only actors I cast in advance were these two girls," Ms. Nakadate said. "All the supporting cast and all the locations were found as we went along." In the distance, over the ocean, lightning flashes from a rain cloud. "That lightning? It was chance. We went to a beach and we waited for something beautiful to happen. The fiction is that these two girls didn't know each other until three days before the shoot. The fact is that that lightning is real." In another twist of fact and fiction, the two girls are now close friends.
I was distracted while writing this. I was looking at Facebook. I claimed this was research. The site was Ms. Nakadate's impetus for A Catalogue of Tears.
"It started when I was looking around online," she said. "There's a lot of different Web sites like Facebook and MySpace and blogs where people fake happiness all the time. You ever notice when you're on Facebook, all your friends are happy? Really? Is that true? All of my friends are happy?"
As I procrastinated, I heard of an acquaintance's death through my news feed, suddenly and by chance. It was the first time this had happened. I thought, "How has this not happened before?" All of the smiling faces posted memorial messages on his wall, things like "rip" followed by sad-face emoticons. And then I thought, "Laurel has a point." There are so many ways to gloss over sadness.
"You can go out into the world and anything can happen," Ms. Nakadate said. "The performance is prescribed by my living, and my living is affected by my performance."
Where, then, does the performance begin and end? In one of Ms. Nakadate's most unsettling videos, Exorcism in January, a scraggly-looking man (he has been a recurring character in her work over the past decade) says, "I think my chemical imbalance in my brain changed. I'm feeling pretty down." Off camera, Ms. Nakadate says, "What do we do?" He responds, "I don't know. I think an exorcism might help." The words sound forced, but the man looks genuinely sad. Too sad to shave or comb his hair, too imbalanced to clean his apartment or put sheets on his bed. Still, both performers are aware of the setup.
"The people in the videos always want to perform," she said. "Somebody that wants to perform, you know, you don't have to convince them. I've never really had to convince someone to do anything."
The man in the video lies on his bed without sheets, and Ms. Nakadate shouts, "Go away bad spirits! Shake them out! Shake out the evil spirits!" The man is writhing, moaning and repeating Ms. Nakadate's commands like incantations. Suddenly, the pretend exorcism does not look so pretend. Of course sadness, like happiness, can be feigned. The line between crying and faking it is itself nearly fictional.
mmiller@observer.com