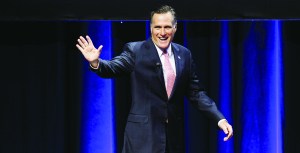 Last Monday evening, at her apartment on Fifth Avenue, Georgette Mosbacher hosted a dinner honoring the eldest son of Rafik Hariri, the Lebanese prime minister who was slain six years ago last week.
But Ms. Mosbacher–who has served as the resident doyenne of New York's Republican donors for the past two decades–couldn't resist a moment of fretting about domestic politics with one of her guests, the corporate raider and a fellow donor, Carl Icahn.
"Who do we have? Who are we going to rally around?" she recalled the two of them saying about next year's presidential race. "It was like, perplexed. We were looking at each other saying, 'What are we going to do here?'"
Four years ago, the cosmetics entrepreneur, whose late husband helped engineer the Bushes' fund-raising juggernaut, was already knee-deep in John McCain's primary contest, cutting big checks and haranguing her generous friends to help propel the Arizona senator to the presidency.
Ms. Mosbacher would very much like to be doing that again, showering money on a contender capable of beating Barack Obama.
But that day still feels a long way off.
"In the 25 years I've been doing this, I've never been at this point, two years out, and said to you: 'I have no idea,'" she told The Observer last week. "Ever. But I have no idea."
As President Barack Obama's campaign team decamps for Chicago to rebuild its '08 operation, and his New York donors begin signing checks for what could be a billion-dollar campaign, the Republican field remains an enigma, a pack of Midwesterners and a smattering of Southerners all muddled behind Mitt Romney.
The lesser lights have been making the rounds for months, with varying degrees of frequency, but none has officially declared, leaving some of the city's biggest donors to watch and wait.
"I talked to [Morgan Stanley chairman] John Mack last week, and he didn't have a clue as to who he might get on board with," Ms. Mosbacher said.
She had also spoken to Paul Singer, the hedge fund manager known for bankrolling Republican causes, about coalescing behind a single candidate, but neither could settle on who that person might possibly be. (Messrs. Icahn, Mack and Singer did not return calls for comment.)
"I could not name one of my friends, or anyone in my Republican database, that I could point to and say, 'Go to that person and this is who they're supporting,'" Ms. Mosbacher said. "With one exception, and that's Woody Johnson," she said.
Mr. Johnson, the Johnson & Johnson heir and owner of the New York Jets, is actually one of a handful of big-name backers whose support has helped Mr. Romney open an early financial lead that his campaign would like to cement as insurmountable.
One of Mr. McCain's finance co-chairs, Lew Eisenberg, has been an aggressive backer, and former Secretary of State Henry Kissinger–who served as an honorary co-chair for McCain–recently hosted a dinner for Mr. Romney, according to one source. (A spokesman for Dr. Kissinger said he was out of the country and could not confirm whether he was supporting Mr. Romney.)
But, by all accounts, there are still enough big names, with deep pockets, to catapult at least one candidate-and probably two-into Mr. Romney's realm as a genuine contender.
In November, Mr. Romney hosted a dinner for uncommitted donors that spread across several tables at the 21 Club. He took a long list of questions about how he would govern, and perhaps more importantly, whether he could win.
"I'm not convinced that Mitt can get elected, and I think that was the general tone of everyone as I walked out," recalled Ms. Mosbacher, who chaired Mr. McCain's 2000 finance committee. "That so-called George Bush network-that same network, name by name, which put 41 and 43 in office, that my late husband created-is clearly not on board."
While some of the established donors continue to demur, Mr. Romney's campaign has been casting a wide net to haul in fresh faces.
On the morning of Monday, Feb. 3, Mr. Romney attended a fundraiser targeting young professional at the offices of Tiger Management, the hedge fund founded by one of his most committed supporters, Julian Robertson, and which is now being re-born by Mr. Robertson's son, Alex."I thought he did well," said one attendee. "It's a fiscally conservative message that appeals to most businesspeople."
Last week, Mr. Romney's campaign emailed supporters, asking those who could potentially raise a modest $25,000 to convene for an organizational meeting in mid-March.
So far, Mr. Romney is the only candidate to move much beyond the first phase of a candidate's courtship, and there is a sense that the big-name donors who have yet to engage might be looking for something slightly more intimate.
"If you get in early, you can have the opportunity to have more impact, or get a bigger country if you're looking to be an ambassador," said one prominent Republican. "They may say, 'I kind of like that [former Minnesota governor Tim] Pawlenty's courting me, I'm connecting with him, I'm getting off on that, I can be a state chair or whatever, I'm going to be a real player in this."
The other candidates seem content to take it slow.
On Wednesday, Feb. 9, Mr. Pawlenty made a fairly typical swing through the city. He invited about 50 people to pack into the white shoe law firm of Dewey & LeBouef on Sixth Avenue; the lunch was on the house.
"Not that these guys need to have their meals paid for, but at least you're not getting hit over the head saying, 'I need you to write me a check right now,'" said a source who appreciated the slow-play for support. "New York's an ATM, but you have to make deposits before you make withdrawals."
Mr. Pawlenty focused on introducing himself to a crowd that still had only a passing idea of who he is, and what exactly he stands for.
"There were a couple of guys who I walked in with who said, 'I wonder what he's got to say? I've never heard him and I don't expect much,'" said the source, who was pleasantly surprised by Mr. Pawlenty's charisma. "I thought he would come across a lot drier."
After the lunch, Mr. Pawlenty went to the Fox studios to tape an interview with Bill O'Reilly, and then on to a small, non-fundraising dinner hosted by CNBC's Lawrence Kudlow.
Other candidates have been making similar rounds. Indiana's governor, Mitch Daniels, has attended several fund-raisers as he ponders whether to run, and South Dakota Senator John Thune held a few events during a swing in October.
Governor Haley Barbour of Mississippi has been spent decades working New York donors on behalf of the Republican National Committee and the Republican Governors Association, as has Newt Gingrich, who has passed through frequently, promoting his various projects.
Mike Huckabee, who tapes his show at the Fox studios, is always around (though most New York donors said they hadn't bothered to request an audience with him), and the locals-George Pataki and Rudy Giuliani-are always just a phone call away.
All of which makes one potential candidate rather conspicuous in her absence.
"I get invited to fund-raisers, or even to go meet candidates, and I don't remember being invited to meet Ms. Palin," said Kenneth Bialkin, a partner at Skadden Arps, and a board member of the Republican Jewish coalition. Mr. Bialkin didn't even hear from Ms. Palin after he publicly defended her use of "blood libel."
"Which is a good sign, it shows she's not an ass-kisser," he said with a laugh. (Ms. Palin announced last week she would be speaking to the Long Island Association on Thursday, but as of Tuesday, no one who spoke to The Observer had heard of any other local plans.)
The slow pace is killing the fast-moving Ms. Mosbacher, who said she'll start working on Senate races next month, and that the timing has her worried whether the party will field a candidate capable of beating Mr. Obama.
"For me to commit to get involved in these Senate races now …" Ms. Mosbacher let out a long sigh. "I would expect to be working, lining up the big donors for 2012. I mean, I'm frustrated. I'm frustrated, because I'm scared."