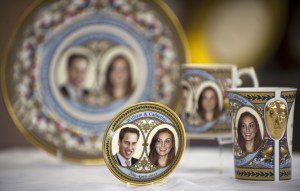 Do not despair that you cannot view the royal wedding in 3D. High-tech visual trickery has nothing on old-fashion kitsch anyway.
And there's nothing like a wedding between a future monarch and his steady to get the ceramic flowing.
With the blessed event a mere 76 days away (which means these exquisite handicrafts will only appreciate in value!), we've collected the very best swag with which you can demonstrate your anglophilia, your aristocratic leanings, and your appreciation of commemorative merchandise.
Get yours now! Here's how to order Kate and Willie's Finest Royal Keepsakes. >>