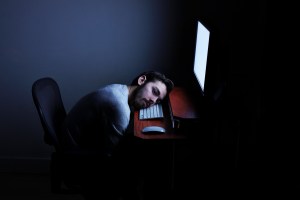 "I don't really see a blog business," said Nick Denton over gchat. He still wasn't sold on the idea of an interview regarding his sites' redesign, scheduled to debut tomorrow, and seemed to be attempting an escape. "I should find you that old post in which I compare blog ad revenues to McDonald's franchises, i.e. piffling."
Ah! But! Surely they aren't so McDonald's-sized now?
"Well, the McDonald's reference was from five years ago–when I was downplaying the revenue potential of blogs," he said, then paused for exactly one minute. "Things did move on from then."
Whatever blogs have become, there seems to be universal agreement that the format that made them ubiquitous–the reverse-chronological aggregation accompanied by commentary–is not long for this world, and Mr. Denton's scoop-friendly redesign would seem to be the best evidence of that. In fact, the decline of the blog has come so quickly, one has to wonder whether we ever really liked the medium at all.
"From the beginning, I didn't call the sites 'blogs,'" said Dan Abrams, who launched his Mediaite network in 2009. "And that's true because I always had this vision of them being more than just advertising-supported, ah, well, blogs. You know, whatever the word is."
"What is blogging?" asked Lockhart Steele, publisher of the Curbed network. "Is what Capital New York is doing, do you consider that blogging? Well, yes and no."
"It always has been an embarrassing word," The Awl's Choire Sicha said. "First it was embarrassing because bloggers were these dirty, horrible people, and then it was embarrassing because our grandmas have blogs, God bless them."
The reluctance to even talk about blogs may have sprung from the fact that our early enthusiasm for the medium was, in the clarity of hindsight, based entirely on hypotheticals. Blogs were meant to offer untrammeled personal expression. They could turn elections. They'd straight-up murder newspapers! Oh gosh, remember The Printed Blog?
We even thought that owning enough of them could turn a tidy profit. In 2003, Google (GOOGL) both debuted AdSense and purchased the Blogspot blogging platform, symptoms of the business model based on the notion that ads could target a vast audience of niche readers. In 2004, Jason Calacanis launched a blog dedicated solely to the goings on of satellite radio. "Howard is moving to satellite radio, so it's a done deal," he wrote, excitedly, in the launch's press release,
"We were certainly much more casual about launching sites," Mr. Denton said of those days. "As soon as we had a name and a concept, we just launched."
Somewhere between the business and personal sides of the blogging bubble were of course the bloggers themselves, sometimes pajamaed, often scoop-wielding and truly witty creatures that occasionally danced across the cover of your New York Times Magazine. If bloggers back then were no less reviled, they were at least objects of curiosity.
When the micropublishing model flopped, the game soon turned to going bigger–in this period, Gawker reversed its ban on reality stars, among other measures, to grab more readers–competing for the largest audience in the areas, like gossip and media, known to be successes. Sites like Business Insider and Mediaite popped on the scene to compete for those ever-inflating ad dollars, and this called for more bloggers.
Soon every 22-year-old with a "Sarah Palin" Google alert and a dose of irony fancied himself the next Alex Balk. From the story selection to the sarcastic or hyperbolic headlines, blog content became predictable, and duller for it. It's the sort of thing that can lead a good blogger to feel undervalued.
In his November farewell post, after a five-year stint on the Atlantic blog, Marc Ambinder wrote that it will be a relief to head to the National Journal, where he will feel no compulsion to turn every piece into the opinion of "a web-based personality called 'Marc Ambinder' that people read because it's 'Marc Ambinder,' rather than because it's good or interesting."
"You're competitive in terms of getting something first, and then you're competitive on getting a take that is close to the truth so much as it can be approximated, and then you're competitive in building and keeping an influential and broad-based readership," Mr. Ambinder told The Observer, speaking with exhaustion of his time on the Web.
With the Jason Kottkes and Andrew Sullivans already established and still working, he added, it's become increasingly difficult to carve out a niche.
"We're at a stage now where that market is saturated, so it's the long tail phenomenon. We're getting to the point where it's really, really hard once you start, unless you're a phenomenon or something," he said.
This saturation of opinion dripped into the personal blogging sphere as well, with Tumblr, Facebook and Twitter becoming the preferred mode for oversharing, the sharing sort of being the point, and aggregation.
To establish the very basics, the personal blog took the form of a passive Web site that offered a glimpse into one's inner life to anyone interested, whereas these networks broadcast these thoughts to friends, who would presumably be best suited to receive them, and who in turn used these networks over the others, without having to trudge through, say, WordPress.
"The purpose of it is just pretty different," said the Web guru Rex Sorgatz, who recently gave up his personal blog for a Tumblr. "Because I see the audience and I know who they are, see who they are. I talk in a completely different way and post pictures of my dog and make jokes about people without linking to them because everyone knows who I'm talking about. And certainly it changes the way you talk about things."
The astounding amount of traffic passed to Web sites from social networking would seem to discredit the idea that people actually like having their news surrounded by lame jokes. Also indicative of this is the strange occurrence of aggregation-only Web sites–blogs that have been stripped of their writing. Mr. Sorgatz has worked on a few recently debuted versions of these, and notable among the established sites are the newer efforts of the Memeorandum family, like Mediagazer, which offers algorithm-based curation of media gossip.
Then there is The Atlantic Wire, the stripped-down aggregation service from a company that frequently touts its Web presence, which will soon relaunch under former Gawker editor Gabriel Snyder with 15 new employees in New York.
According to Mr. Denton, the "pendulum has swung," and it's become more viable to profit from this spate of aggregation, which he arguably prompted, rather than attempt to compete with it. His new goal is to make sure the entire Web sees whatever scoops he has to offer. Rest assured that the next time Tom Cruise uses a new Apple product to send photos of his penis to something that washed up on Montauk, it will be in your RSS feed as soon as it's splayed across the Gawker marquee.
Still, even knowing the logic behind it, the Gawker redesign is jarring. Just one story is featured on the home page at any given point, and the vast majority will not be exclusive by any stretch of the imagination–past examples seen on its public beta have included a guide to flying tipsy and a chart examining Charlie Sheen's publicity value for porn stars. It's sleek to be sure, but there are shockingly few links, and that's somewhat unexpected coming from the man who codified the blog format.
What happened to the famed "snarky" Gawker take on the news of the day?
"Well, that will be there, of course," Mr. Denton said. "If anything, in splash story, more obviously there, i.e the most pungent of stories will be the ones that get the most play on the front page. Writers will have to ease up on irony in headlines–because they will no longer have the lede to clarify. But that's already been happening–because so much traffic comes from headlines distributed on Facebook and Twitter."
"Social media killed the ironic blog headline," he added neatly.
None of this is to say that Mr. Denton's model is the way ahead for all blogs, least of all because he generally boasts around 20 times the traffic of any of the other sites mentioned here — with the exceptions of Mr. Sicha's sites, which do more, and Mr. Abrams' sites, which do still more. But his emphasis on original content has already been in the ether, in a proportionally smaller degree, on the more forward-thinking blogs.
Some of these have been bullish on old-school scoops. Yahoo recently put together a whiz-bang team of reporters for its Upshot news blog, which regularly furthers stories with new details. It's a model that's been pursued by Talking Points Memo's Josh Marshall from early on in the lifespan of his Polk Award-winning site and one that he's pushed aggressively, to the point where he's been outspoken in his recent decision to stop calling the site a blog at all. He now relegates the opinion-heavy personal posts, more in keeping with what he used to do in the early days, to the "editors blog" section.
"Over time, by design, the news section has grown dramatically, and the blog section is pretty much what it always was in terms of volume and in terms of footprint on the page," Mr. Marshall told The Observer. "It makes you a destination site. At a lot of different levels, you have stuff that no one else has. Sometimes it's a matter that you have a scoop or it's a matter that you have a consistent focus on a story that a lot of other people don't have."
"I think the story of blogging in the last couple of years or more, professional blogging, is that we all do a lot more original content," said Mr. Steele of Curbed. "I think by the dint of being local, that's something we've always done, but if anything, that's gotten even more important. We give more attention to that sort of stuff now."
The Awl network may be a notable exception of a new online endeavor that essentially follows the old blogging method, but Mr. Sicha noted that some of the site's more unique efforts have gained a surprising amount of traction.
Specifically, he referenced the flyaway success of their newest property, The Hairpin, which he credits to its editor, Edith Zimmerman.
"She's not aggregating blog posts about the thing that just came down the wire. She's making things, and I think one of the mistakes that a lot of blogs make that kind of dead-end them as blogs is covering the same thing that everyone's covering instead of like creating things and stopping to make stuff," Mr. Sicha said. "I really feel like she renewed this idea in me that this should not be about covering Keith goddamn Olbermann. This should be about engaging with the thing that most fascinates me or cracks me up at 2 in the morning."
If the freedom from the opinion-based aggregation model has freed blogs of their point of origin, and less savory aspects, the short-form personal blog may well encourage longer extracurricular writing. In Wired last month, Clive Thompson argued just this point. "Ten years ago, my favorite bloggers wrote middle takes–a link with a couple of sentences of commentary–and they'd update a few times a day. Once Twitter arrived, they began blogging less often but with much longer, more-in-depth essays," he wrote. And when someone does decide to weigh in on Mr. Olbermann in a substantive way on a personal blog, à la Sady Doyle on Tumblr, the networking aspects of the new blog formats ensure that the post will be read.
As for Mr. Denton's redesign, it's unlikely that many other blogs will rush to copy the visual format, with its paucity of links. Mr. Steele went out of his way to praise the traditional blog appearance over any innovation because of the reader engagement it encourages.
"I contrast that to the homepages of, let's say, magazine websites, where there's an internal consistency, as in the magazine understands why the box on the upper right corner changes every week and this right over here changes every day and this over here changes every hour, but the average reader has no idea what's new," he said.
"The thing about blogs that's great is that if you arrive at a blog, you know immediately how to read it," he added. "Once you've learned to read one blog you can basically read every blog."
dduray@observer.com
Update 7 p.m., 2/1:
An earlier version of this article stated "None of this is to say that Mr. Denton's model is the way ahead for all blogs, least of all because he boasts around 20 times the traffic of any of the other sites mentioned here. But his emphasis on original content has already been in the ether, in a proportionally smaller degree, on the more forward-thinking blogs." It was corrected to account for Mr. Abrams' sites.
Update 12:30 p.m., 2/2:
Further updated to account for Mr. Sicha's.
Update 11:30 a.m. 2/3:
The earlier version referred to Mr. Sorgatz as a "web developer." His worked has moved into other areas in recent years.