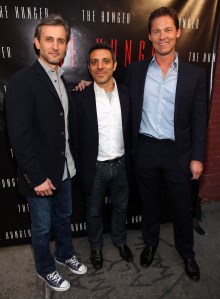 The cubs are pawing each other over at the Lion. As the West Village spot bids to pick up the mantle of Waverly Inn, several stakeholders are distancing themselves and the restaurant from its two most conspicuous investors, Dan Abrams and Dave Zinczenko.
Recruited by partners casting about for their requisite media maven-as-restaurateur (a role perfected by Graydon Carter), Mr. Abrams and Mr. Zinczenko appeared to have signed on with a mandate to wrangle celebrities and industry moguls—whatever brought buzz to the Lion. It seemed a perfect fit: a former MSNBC anchor, Mr. Abrams is the silver-flecked founder of the Mediaite blog network, and Mr. Zinczenko is the editor and television ambassador of Men's Health. But a New York Times profile last December painted the pair as hapless strivers.
"Graydon really redefined the things an editor can do. That created a feeling in us: You know what? This is possible," Mr. Zinczenko told The Times.
Mr. Carter saw different possibilities. "Every time I see them—and they seem to travel everywhere together—I can't help but think of those two brothers from A Night at the Roxbury."
Mr. Carter had been chef John DeLucie's star-making partner in the Waverly until Mr. DeLucie left to build the Lion with partner Mark Amadei.
And then there was the photograph accompanying the story—Mr. Abrams and Mr. Zinczenko outside the Lion, which a caption termed "their restaurant."
"We told them not to do that again," said John Codling, an investor and artist, one of whose paintings hangs in the restaurant. "Now we don't even take their reservations; they're banned." Another investor wrote in an email to The Observer that until recently, the two had been cut off due to press they "went ahead with, unauthorized."
A restaurant too cool for its own investors? Surely that's a new high-water mark in New York dining exclusivity.
"Expect crowds of media players," Page Six had teased in an item before the Lion's opening. It turned out to be more than some investors had bargained for.
"Dave and Dan were only supposed to bring one or two people each night, but they were coming in with hordes of their people," one insider told The Observer of Mr. Abrams and Mr. Zinczenko.
"At some point, John cut them off," our spy dished.
This would never happen at Waverly, said to be ruled by Mr. Carter with a discipline reminiscent of Stalin, through an unpublished reservation line. At the Lion, sprawling management and "Dave and Dan"-centric press had the den's alphas primed for conflict.
"I think that DeLucie wanted it to be his restaurant as a chef. The way someone says, 'It's an Eric Ripert restaurant.' Not a 'Dave and Dan' restaurant,'" one familiar of Mr. DeLucie's speculated.
No two investors who spoke with The Observer had the same impression of how many investors and partners are involved in the Lion. Each investor's estimation of where his stake ranked among the other investors conflicted with those of others.
"Dave and Dan were the last two investors to be brought in. I didn't want them as investors," Mr. Codling said.
"I only learned of this guy after he complained that the media was ignoring his investment in the Lion. He deserves some amount of credit, however, for finding such a creative, albeit fictitious, way to remedy that," Mr. Abrams told The Observer.
The Lion's other partners declined to comment.
It is clear, at least, that Mr. Zinczenko and Mr. Abrams are no longer, or were never really, banned. Mr. Zinczenko cut a photogenic figure at the Lion last Friday when it hosted Tommy Hilfiger's fall men's wear presentation.
No West Village nook can accommodate the egos of a half-dozen-odd investors.
"From the first meeting, the partners told us it wasn't a vanity investment," explained yet another investor. "I can't even get a same-day reservation."
The Lion investors who voiced disdain for Mr. Abrams and Mr. Zinczenko's self-promotion were more emphatic in bemoaning how it had overshadowed the "true" founders' accomplishments.
"They were the last to invest once the build-out was apparent and obviously going to be a rather special place," one said.
On the matter of specialness, the investors may be a bit myopic. Reviews deemed the Lion another failed attempt to revive the salons of old New York. But for better or for cringing, the "Dave and Dan" brand has drawn more stars to the Lion than the city's most trusted food critics dared award it.
Don't feel glum, cats—we hear even the Waverly is empty these days.
kstoeffel@observer.com