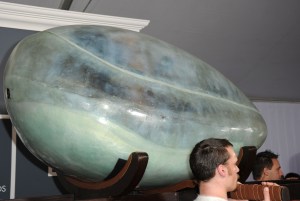 We're liveblogging the Grammys here starting at 6p.m. Keep refreshing this page for updates and observations!
11:23. Arcade Fire wins for The Suburbs. We forgot the cardinal Grammy rule, that the most recent performer always wins! Always (usually). Lady Gaga's hat shrouds her reaction. "We're going to go play another song–because we like music," says frontman Win Butler. Barbra and Kris wish everyone good night, as Arcade Fire play another song on their still-intact equipment–gosh, it's almost as though they knew they'd win. Those were the Grammys! (We wish there were puppets and Gwyneth in this final performance, still.)
11:21. Barbra Streisand and Kris Kristofferson are presenting Album of the Year. What would be the biggest surprise–Katy, right? Go, Katy, then!
11:17. This commercial is now a week old, but the car that reads you your Facebook newsfeed narrowly defeats Justin Bieber to win the Grammy for Best New Awful Idea.
11:14. In all seriousness, good for Arcade Fire for being a group earnestly interested in musicianship and putting on a great show! Their losing to Lady Antebellum in like four minutes will be all the sadder now that we've had this fun together.
11:13. One understands that this is meant to be a spectacle–but with neither Gwyneth nor puppets, the spectacle simply doesn't come across. The lights are trying pretty hard to give us a seizure, though.
11:11. Arcade Fire begin their performance with a sea of blue light and a nation recalls a week-old halftime show.
11:05. The band's producer refers to them as "Lady A." It's almost as though he knows the name was engineered by Nashville to be pointlessly provocative!
11:04. The award goes to Lady Antebellum, "Need You Now." A good night for adult-contemporary radio. But isn't it always thus, those of you who were rooting for Cee-Lo or Eminem?
11:02. Professional awards-show presenter Jennifer Lopez and her husband Marc Anthony get to announce Record of the Year, somehow. If they give it, as per their want, to the most recent performer, it'll be Eminem and Rihanna, but it will be Lady Antebellum, right?
11:00. And so the awards show passed the three-hour mark with a performance of a song nominated for zero awards tonight. Rihanna is so charismatic–and this song so pleasant–that Katy Perry's Album of the Year nomination seems even more a historical accident.
10:59. Puffy's "one of the most consistent artists working" could be construed as faint praise for Rihanna. With the faint echoing ululations and the campfire, is this performance cross-promotion for Survivor's new season?
10:58. He's called Puff Daddy again now? He's a three-time Grammy winner, too?
10:52. Best Rap Album goes to Eminem, Recovery. They play Rihanna singing as he walks to the stage. This late-show award is his consolation prize for losing Album of the Year, right?
10:50. We were wondering how long it would take until Nicki Minaj showed up onstage, and how long until she hijacked an awards presentation by mugging. Respectively, two hours and fifty minutes, and (subtly, but still) three seconds.
10:49. In terms of lyrical content, "Evergreen" is rather like the "Teenage Dream" of the 1970s.
10:47. One imagines a passel of children are about to scamper out from underneath Barbra's very full skirt.
10:46. Kris Kristofferson is presenting Barbra Streisand's performance. Hopefully future Star is Born star Beyonce is paying attention!
10:40. Beyonce and Gwyneth are sitting together, and approve of Mick!
10:38. I guess it's good that those five banshees began the show, because I don't think I have the energy to deal with anything more demanding than Mick Jagger at this point. Good thing Barbra Streisand, likely in soothing beige, is performing soon!
10:36. Both Dylan and Jagger have gone largely unchanged in the past quarter-century–but in Jagger's case, that's a really good thing.
10:35. Mick Jagger doing a Solomon Burke tribute, as John Mayer nods hazily! The Kidman reaction-shot count for the show has been off the charts in terms of quantity and quality.
10:29. Do people become Academy Presidents simply to speak on TV for three minutes a year?
10:22. The two biggest awards tonight have seen Cee-Lo and Eminem fall to Lady Antebellum and Drake lose to Esperanza Spalding. One wonders to just whom Eminem will lose Album of the Year?
10:20. Best New Artist goes to Esperanza Spalding. Jewel chuckled before announcing the name, possibly because this is the category's biggest surprise in years–perhaps since Christina over Britney!
10:18. Was Adam Levine supposed to be in that performance? Did he become the girl singing the hook?
10:16. Eminem's refusal to sing either of his nominated songs ("Love the Way You Lie" or "Not Afraid") is pretty admirable, if only from a keeping-things-fresh perspective. Who is the obscured figure singing the hook?
10:15. Rihanna has probably chalked up the most Grammy performances in recent memory for a performer who's not really been honored. She's doing the same slow-walk-towards-Eminem we saw at the VMAs. Eminem, incidentally, is really incurring the censors' wrath on the audio-shutoff button.
10:14. Rihanna somehow overcame laryngitis to sing a pretty compelling "Love the Way You Lie, Part II." No one believes us that her version of the song is better than Em's!
10:13. Justin Bieber isn't sure if he should laugh at Seth Rogen's Miley joke.
10:12. The Grammys return from commercial playing a song they will hopefully never honor, "Like a G6."
10:05. Song of the Year. Did Keith Urban just tell the world's subtlest Taylor Swift joke to John Mayer ("This award went to John Mayer's 'Daughters'–the song")? The writers of Lady Antebellum's "Need You Now" take it.
10:02. This tiny, random "Jolene" trio is a nice aperitif after Katy. Is Dolly Parton going to come out, though?
10:01. Nicole Kidman singing along is empirical proof that "Teenage Dream" is the one song tonight that everyone knows. Also, it makes us wonder why Gwyneth is the Oscar winner who gets to sing.
10:00. Remember when Beyonce sang "You Oughta Know" at last year's Grammys and people wondered if she and Jay were okay? Those wedding images projected onto Katy's dress…
9:58. In all seriousness, it's nice to hear a downtempo non-single from Katy Perry–that said, her ascent to the ceiling indicates a huge overplayed hit may be in the offing!
9:57. That "oh-oh-oh-oh" from Katy Perry was the dark side of a decade of affirmation from vocal coaches.
9:56. It's so weird, seeing Neil Patrick Harris at an awards ceremony! It's such an unfamiliar sight–very refreshing!
9:50. While Gwyneth is in great voice, it's a little emblematic that her costume for this super-stagey performance is "Gwyneth Paltrow in pink earrings."
9:49. Gwyneth is, for the record, a far more compelling R&B singer than country star. Maybe she learned something from BFF Beyonce? She still looks like she doesn't quite know why she's there, though.
9:47. Jamie Foxx does the best SNL joke from December, introducing Cee-Lo and pretending "forget" is an obscenity. Cee-Lo is dressed as a Mardi Gras king. The puppets sadly do not include any familiar faces. Gwyneth hasn't yet shown, two minutes in.
9:46. Best Country Album: Lady Antebellum, Need You Know, feigning surprise as they come out from backstage. Was that the (unusually late) first time someone thanked God tonight?
9:43. Despite their name, Lady Antebellum are so versatile that they can do a tribute to an R&B singer, Teddy Pendergrass, and also a seventies-ish rock song about drunk-dialing! The antebellum period was so rich, you guys.
9:41. Lea Michele was extra-Lea Michele-y introducing Lady Antebellum. Does this band's name freak anyone else out? It's like Lady Gaga, just with extra nostalgia for when Americans held slaves.
9:39. So nutty that they don't present the lifetime achievement awards aren't presented during broadcast, especially as we'd have loved a Dolly Parton or a Julie Andrews speech.
9:32. Just as Usher saves all overproduced extravaganzas, Soy Bomb should save all Dylan raspathons.
9:30. We're not knowledgeable enough to make any remark about Mumford & Sons–although their beating Justin Bieber for Best New Artist seems, based on the last thirty minutes, totally plausible (never say never, guys!). But Dylan is in very Dylan-y voice. Do you think his version of vocal exercise is buying a pack of American Spirits?
9:26. A tribute to folk! A tribute to taking a five-minute break!
9:22. David Letterman, in the absence of a host, is presenting a Top Ten list. Lindsay Lohan theft jokes ahoy! It doesn't seem Justin Bieber got the joke about him.
9:21. Shocking that we made it to 9:21 before our first glimpse of Katy Perry. The award goes to Lady Gaga, The Fame Monster. She's wearing Beyond Thunderdome chic, with embossed rubber breastplate–and little plastic horns. The audio dropped out at the beginning of the speech, but Gaga ended by thanking Whitney Houston for inspiring "Born This Way." "I wasn't secure enough to imagine myself singing it." If only Whitney were in attendance! What a reaction shot that might have been.
9:20. Donnie Wahlberg–presenting with Selena Gomez. Is the New Kids revival over yet? Best Pop Album goes to, we're betting, Bieber, as he just performed.
9:18. Adele's "Rolling in the Deep" in the I Am Number Four commercial was the best performance of the night.
9:15. If Muse is a smeared carbon copy of Coldplay, pregnant Kate Hudson (as thanked by Muse frontman Matthew Bellamy) is this year's Gwyneth and Apple.
9:13. Some actress from NCIS just made a crack about the revolving-door policy at Paramore, while presenting an award with them: "I get to be in Paramore for the next few minutes." Best Rock Album goes to Muse, The Resistance, keeping up the Grammys' record of tipping their hand by letting winners perform.
9:12. It was so cool of Usher to let Justin sing the "My"s in "OMG."
9:11. For the second weekend in a row, Usher's "OMG" dance number saves a musical performance. Does he just have a hotline beleaguered performers can call?
9:09. Wondering what strings Will Smith pulled to get Justin Bieber to perform the song that features Jaden Smith tonight. Perhaps Big Willie's acting as Bieber's movie scout has a quid pro quo?
9:08. This is a timely Karate Kid-themed performance! "Never Say Never" is not Mr. Bieber's most compelling song ever.
9:07. Looking like a medley–we began with Bieber alone on guitar, but in comes the ski-masked apocalyptic drummers!
9:06. "Yeah, that was four years ago," says Usher, in the most uncomfortable spoken-word introduction to a Grammys performance since Britney in her childhood bedroom.
9:05. Ah, Eva Longoria! She's introducing Justin Bieber–and, for some reason having to do with the Bieber-as-legitimate-artist publicity blast, a YouTube video of Bieber singing a cappella in 2007.
8:52. The winner: Miranda Lambert, "The House That Built Me." Another performer whose sales are likely to rise substantially next week. She ends her speech, "I love country music."
8:57. During an awards ceremony all about unexpected intersections, it's funny that only country singers can present country awards. Also, Jewel is nominated for Female Country Vocal.
8:56. Monae's spontaneity is something pretty unique, at least in this broadcast. She seems a prime contender for the famous post-Grammys sales bump–your parents would buy that album!
8:55. Janelle Monae ought to just have had her own performance slot–she outdoes B.o.B and Bruno Mars easily, and wasn't really integrated with them to start with.
8:54. Taping an awards-show performance in black-and-white is the equivalent of Clint Eastwood's movies starting with vintage production-company logos–gravitas can't just be applied as a visual effect.
8:53. Did Bruno Mars need to be re-introduced in the middle of the performance? His ego, if nothing else, will guarantee longevity!
8:52. Janelle Monae has stood here, looking mildly bored, for three minutes or so.
8:50. B.o.B. and Bruno Mars sound, and look, unexpectedly solemn. We remembered this song as light-hearted?
8:49. "We've seen a lot of legends tonight," says Seacrest. Like Muse?
8:48. Nearly an hour in, one award presented. Those of us who love lists of names read quickly are waiting, CBS.
8:45. The Target commercial where Taylor Swift says, of her love life, "I'm naming names," remains one of the most negative aftereffects of last year's Grammys.
8:43. In other news, The Hollywood Reporter did a Twitter search for the word "Aguilera," and the results were mixed!
8:41. Wait, I guess I've seen the "Don't Tread on Me" flag in history class, but what could the images of banks physically collapsing mean? This performance has way too many shades of meaning.
8:39. Muse, I knew Radiohead. Radiohead was a favorite band of mind. And you, sir(s)…
8:38. Lenny Kravitz, introducing Muse. There are certainly a lot of lights going on in this performance!
8:37. Miranda Lambert dedicates her performance to "all the great artists who have come before us." "The House That Built Me" is a very pretty song–and a Song of the Year nominee. (Backstage-trouble-averted alert: Lambert was asked about Gwyneth Paltrow's new country side in an interview with Meghan McCain, for some reason, and said only, "I've heard mixed reviews.")
8:27. It was probably as weird as we could have expected–the alien imagery was a nice touch, and will have Vigilant Citizen going for months, but we expected, somehow, even more.
8:26. It took three minutes for Gaga to mess with the single–and she turns it into an Aretha-esque gospel number for a minute.
8:25. Not to be "like that," but the dancing in this number does recall our memories of Madonna's "Express Yourself" video, though the alien spa employee tunics are all Gaga.
8:24. Who can we credit with sharpening Gaga's shoulders?
8:23. Gaga's incubation period turned her into, we think, Mata Hari? She started in trench and big hat.
8:22. Ricky Martin is wearing very shiny pants, introducing Lady Gaga. Surprising that they didn't save this for later in the night if they weren't going to lead with it–plenty of people will tune out once this is over. (Not us, though. Never us.)
8:21. "Thanks, Justin Bieber, for not being a duo or group," says Train frontman Pat Monahan. Zeitgeisty!
8:20. Best performance by a Pop Duo or Group: "Hey, Soul Sister (Live)," Train. At least it wasn't Glee?
8:19. The five mini-Arethas are back to present an award. There weren't enough music-related celebrities to do this?
8:18. This isn't about the Grammys as such, but, wow, that commercial for Philadelphia's chicken-flavored "cooking creme" was foul!
8:13. That final melange of sustained notes was the zaniest diva-off since the Dreamgirls performances at the 2007 Oscars. The show should have led with Cee-Lo or Gaga, perhaps. Aretha–beamed in from Detroit–looks great, though!
8:12. The sound mixing on this is unexpectedly terrible–most of the singers are drowned out by the band.
8:11. The Grammys pride themselvess, as a show, on "unexpected juxtapositions," but it really would have been fine to have one singer do one Aretha song rather than this halftime show of sensory overload.
8:09. In terms of actual fealty to Aretha, Jennifer Hudson wins, but Florence Welch proving she can sing on TV without the distraction of, like, painted people cavorting behind her is a welcome surprise!
8:08. Jennifer Hudson singing "Respect" is more predictable than the sun rising in the east. But she's really good!
8:06. Legendary soul singer Martina McBride! Underplaying a song can be nice, too.
8:05. That was nice of them to let her sing first. Are enough people watching to exorcise Super Bowl ghosts?
8:04. Christina Aguilera clearly wants to be MVP.
8:03. "Aretha Franklin is, and always will be, the Queen of Soul." [cutaway to Justin Bieber, for what will surely not be the last time]
8:02. LL Cool J is, I guess, narrating the tribute?
8:01. Kind of unusual that they're leading with the Aretha tribute–the show opening usually goes to a splashy, mass-appeal pop act like last year's Gaga/Elton duet.
8:00. Apparently, Rihanna really is performing–they're advertising her even now–despite having laryngitis. I guess vocal difficulties haven't stopped her as yet?
7:58. Of course Andy Rooney began his segment–Oscar preview!–by talking about The King's Speech. He's on the right track, baby, he has aged this way.
7:51. Five-minute liveblogging break, to soak up Andy Rooney's wisdom. We wonder if the image we see of Andy is the real him!
7:50. That felt really short. What did we learn? Mainly that "this" is the real her, though it was so intercut with performance clips that "this" was rarely seen, and that she really likes coffee. Stars really are just like us!
7:49. "People take me both way too seriously and not seriously enough" may be the quote most worth parsing for "Born This Way"-era Gaga.
7:47. It's kind of surprising that Gaga writes music while high on pot–they sound so much more Adderall-y!
7:46. This trip to Gaga's old apartment is another Madonna rip-off–does anyone remember when Madonna went to her old studio apartment with Rupert Everett, for VH1?
7:45. Annals of deep cuts: we're recapping the 2009 VMA performance now.
7:44. This is actually a good point: Gaga has managed to keep all eyes on her without ever having a public personal life, really.
7:43. "I didn't want to wear any clothes today. I don't know why!" Gaga says on camera. Oh, I bet I could guess why!
7:42. Oh, now we remember, this interview took place during an on-again moment in Gaga's relationship with an English accent.
7:41. Anderson expresses himself, as it were: "Some of the imagery may remind you of Madonna."
7:40. "One of my greatest artworks is the art of fame." Oh, ugh, as she introduces herself to our grandparents, Gaga is back on that Warhol again, it seems!
7:38. It's always so strange to watch paparazzi in action, right? Also: Gaga seems never to have heard the word "regalia."
7:37. "Her frank talk about drugs may concern some parents."
7:36. Anderson Cooper uses that weird metric, "six number-one songs," to describe Gaga. She's actually only ever had two Billboard number-ones!
7:32. Just as Diddy[-Dirty Money] began to speak to Seacrest, we decided to check CBS. Gaga's interview with Anderson Cooper begins shortly! Then Andy Rooney! Then the ceremony.
7:31. It's too bad Nicole Kidman, wife of Keith Urban, has to go to music as well as film awards shows–she seems so uncomfortable! (We say this as a Kid-fan.) Seacrest saw Kidman in Just Go With It, and called her "hysterical." See you at the Oscars!
7:28. Seacrest congratulated Adam Lambert on his Grammy nomination–which he's already lost. Another Idol star up now, Jennifer Lopez, whose husband Marc Anthony says she's a judge with good instincts "when some of them, uh, aren't."
7:25. Does it not seem as though Miley Cyrus does not produce music or movies nearly as often as Grammy presentations? How many times has she been at this ceremony?
7:24. Willow Smith interview. There's so little I have to say about the Smith family!
7:21. 60 Minutes is just starting the Chilean miners segment. "This is the entrance to hell on earth," says the correspondent, who is not standing outside the Staples Center.
7:20. Also, a group including Herbie Hancock, Pink, and India.Arie won Pop Collaboration with Vocals. Competitors included Elton John and Leon Russell, "California Gurls," and "Telephone." Well, hm, congratulations, Herbie!
7:18. Patting ourselves on the back, as–per Wikipedia's exhaustive available list of nominees and winners–Lady Gaga and Bruno Mars won the vocal performance Grammys we predicted for them at 6:37. Sorry, Beyonce!
7:16. When asked what's next for him, Swizz Beatz lists various ad campaigns, including one for Aston-Martin. His wife, Alicia Keys, is at home "being a lovely mom," though she's nominated for Record of the Year. Okay!
7:15. Ricky Martin is here, promoting his Broadway revival of Evita. How long it's been since 1999. He ends with "Peace, y'all."
7:14. Giuliana Rancic just called OK Go "artistic."
7:11. This is the most E! sentence ever: Ryan Seacrest is asking the kids from Glee if they saw Lady Gaga's egg. Thank God Dianna Agron said she's more excited about seeing Bob Dylan. Should we wait on the "Blonde on Blonde" episode?
7:09. Two unrelated things: this Slate article, on how a secret committee can overrule the voted-on nominees to add nominees that will goose ratings; and Katy Perry's Album of the Year.
7:05. Oh, huh, Kim Kardashian is here. Wasn't she just at Fashion Week? How did she make it out to L.A. and Kanye didn't?
7:03. Paramore is here, after the band's split-up, and headwoman Hayley Williams gets to speak first. The plot of the "Don't Speak" video haunts us still!
7:01. Urf, 60 Minutes is leading with Egypt, then Chilean miners, THEN Gaga. Back to E! we go. The preview indicates Anderson Cooper got to hear "Born This Way" before the rest of us.
7:00. Giuliana just asked Donnie Wahlberg if he ever gets used to New Kids on the Block superfans. He claims he doesn't–not even by now? It's been, uh, a while!
6:58. Jordin Sparks was dressed by the wardrobe department of Disney's Prom.
6:55. Julianne Hough has landed. We're changing to CBS soon, FYI.
6:52. Seacrest's interviews with Drake and Nicki Minaj have now both hinged on upcoming movie deals. Does every member of Young Money–nay, every musician?–just want to get into movies? We blame Justin. Both Justins.
6:50. Drake's mom is absolutely delightful! She is wearing black sequins and rimless glasses. Seacrest asks if she gets uncomfortable when he "pushes the envelope," which, like, does he really?
6:48. Selena Gomez chose her dress because it "looks like an award" (it's gold). We may change to Gaga on 60 Minutes, very shortly!
6:45. Hudson is to be a part of the show-opening Aretha tribute with, among others, Florence Welch and Christina Aguilera. No don't-forget-the-lyrics jokes allowed!
6:43. The camera caught Jennifer Hudson a second before she started her interview with Seacrest–she looked tremendously uncomfortable. Bad memories from the Idol days?
6:40. The show's producer is speaking to Seacrest: the tribute to Aretha Franklin is "a valentine." Poor Ciara has to stand in front of the awful E! 360-degree camera.
6:37. Further, completely unschooled predictions: Drake for Best New Artist (Bieber's recent renaissance in the media, fueled by his new film, was a little late-breaking for voters); Eminem for Album of the Year; Lady Antebellum for Song, Lady Gaga and Bruno Mars for Female and Male Pop Vocal Performance.
6:35. "We're looking for Miley, we're looking for Katy Perry, we're looking for Rihanna. I see LL Cool J!" –E!'s Ryan Seacrest, in an accidental statement on the vicissitudes of fame
6:34. "She is willing to do things no one else is willing to do–except maybe magician David Blaine." –E!'s Giuliana Rancic
6:32. The creative director is really businesslike when dealing with Seacrest–and has her own E! series forthcoming, somehow! She got Gaga's egg out of there by saying, "She's dilating!"
6:30. Seacrest is interviewing Gaga's "creative director." Gaga is "incubating." Now he's talking to a "supermodel nurse," with horns on her face. They refuse to disclose the egg's material but tell us her heart rate. This all goes back, somehow, to the Illuminati, right?
6:28. Among the major nominees, several have already won prizes during the pre-ceremony: Lady Gaga (Short Form Video), Eminem (Rap Solo Performance), and Lady Antebellum (Country Performance by Duo or Group, Country Song). We're calling it now: Lady Antebellum will win Record of the Year. It's just bland enough!
6:24. Bruno Mars's hair is practically as tall as Minaj's. "I love simple songs that hit you right in the face."
6:22. Minaj's leopard skirt, hairdo, and tights seems a takeoff on Lady Gaga's similar togs in the "Telephone" video, itself was a takeoff on Shania Twain. She calls it "lioness meets her cub meets fierceosity meets fashionista." Seacrest is talking about some rumors of a Minaj film musical, about which we hadn't heard!
6:17. Nicki Minaj is wearing leopard-print and a blonde Afro wig; David Guetta is wearing acid-print jeans. Meanwhile Kathy Griffin brings out the weirdest things in Seacrest–he just recited some R. Kelly lyrics.
6:14. Seacrest is talking to Lenny Kravitz about his new tattoo. Other early winners: the Beatles for Best Historical Album and Toy Story 3 for best score.
6:12. They're recapping last year's fashion–so as we wait, the pre-ceremony winners included Rihanna's "Only Girl in the World" for Dance Recording and the Black Keys's Brothers for Alternative Album.
6:09. Now they're asking Florence Welch if she'd ever guest on Glee, and if she's met James Franco or Justin Bieber. Good thing she didn't release an album this year, or she might get offended!
6:07. Every awards show must pay homage to Glee this decade. Matthew Morrison claims his castmates are jealous of his upcoming solo album: "They're all tethered to Glee." Oops!
6:05. Seacrest to B.o.B.: "How many collaborations have you been on in the past twelve months?" "[silently counts on fingers] Maybe twenty?"
6:04. In the absence of even the most desperate celebrities, Seacrest is applying Zapruder-like scrutiny to Gaga's egg. Perhaps this is all a front for the American Egg Board?
6:02. Seacrest leads the red-carpet show by mentioning Bieber, Katy Perry, and Lady Gaga. Sorry, Florence + the Machine fans!
5:59. E! just announced that their gathering of Lady Gaga impersonators set a Guinness world record. We wouldn't have imagined Guinness was keeping track…
5:58. Lady Gaga entered the awards inside a giant egg constructed of what seems to be Plexiglas. What a way to subvert the who-are-you-wearimng crowd–no one can see what she's wearing, exactly! Maybe it's Uggs and sweats.
ddaddario@observer.com :: @DPD_