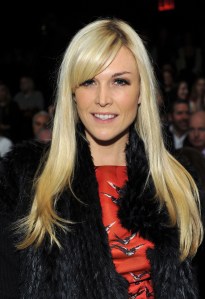 Tinsley Mortimer has made her first front row appearance at Fashion Week this morning amidst the cocktail crowd at Carolina Herrera. It was our first sighting of the Mrs. Mortimer at Fashion Week, leaving us to wonder if this is the beginning of her return to the public eye. Watch this space!
Another front row star was the stunning Christina Hendricks. Wearing a tight-fitting blue and black dress from Carolina Herrera the Mad Men star was mobbed by reporters she tried to answer everyone's questions before she was whisked away backstage. We couldn't get close enough to speak to her and weren't going to push our way to the front (that would have been unforgivably unladylike at Carolina Herrera) but we overheard that it was her first show. As Ms. Hendrick is by far and away our favorite pin-up for making curves popular again, we hope to see her at a great deal more.
It would be such a pleasure to live in Carolina Herrera's world. When you see her clothes which are so feminine and well-cut it must just be impossible to think bad thoughts in those beautiful materials. Her fall line was up to the ladylike standard we've come to expect from Mrs. Herrera — with one or two stand outs. She designed a beautiful turquoise and dark gray jacquard gown which some tall star will definitely wear to this year's Oscars and a turquoise shift dress that every Condé Nast editor will fight over.
The crowd was, as you might expect, heavy on the socialites who were all milling around before and after the show, air-kissing each other. It was like being at cocktail party at ten in the morning without drinks. Amanda Hearst, Annie Churchill Albert, Emilia Fanjul Pfeifler and Lauren Bush were just a few of Mrs. Herrera's supporter who turned out for her big day.