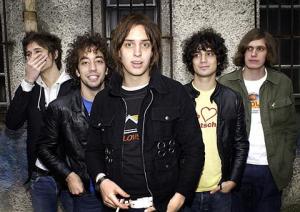 Last Fashion Week, The Observer attended the Tommy Hilfiger after party at the Met and witnessed the first New York performance by The Strokes in five years. A decade removed from gigging in front of a dozen people on the Lower East Side, the singularly awesome five-piece burned through the classics, opening with "New York City Cops" and never letting up. What they didn't play, though, were new songs.
Now we have one. On The Strokes' website lies an mp3 for "Under Cover of Darkness," the first single off their new album Angles, which comes out March 22. The song is wound tight so that the releases snap, but it's a breeze to listen to and a pop song conceived with the full brunt of their powers.
Or, just listen below.