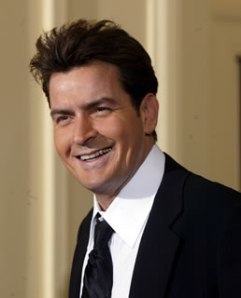 Charlie Sheen is not usually a quitter, but last week he threw in the towel and said goodbye to his hard partying ways. He's currently in rehab, to detox from some serious issues he's been having.
Wait, what serious issues, the uninformed asks. Let's see. There's the six-month bender that ended up costing him upwards of $500,000. He'd wind up inexplicably naked and wasted at nice restaurants. And, well, when you purchase a suitcase full of cocaine with the intent of consuming it withing a obscenely small time-frame, rehab is the place to go.
But while ivory tower-dwellers are tsk-tsking the one-time film star for his wayward inclinations, the subset of middle America with ill-formed senses of humor are concerned. How can there be more episodes of "Two and a Half Men"? The CBS cash cow stands to reap hundreds of millions in syndication, but with its marquee name in a volatile state the future of the show is up in the air.
But, "Two and a Half Men" fans — rejoice! A rep for the show claims the actor will be back by "the end of the month," Media Decoder reports. Look at you go Charlie Sheen!
His publicist, Stan Rosenfield, said Wednesday that the actor may be back on the show by the end of this month. In a telephone interview Thursday, Mr. Rosenfield said that "is true with an asterisk." He clarified by saying, "That is a target date. Dealing with rehab, you never know."
This victory can be attributed to a pair of facts. One, Sheen's God-like stamina when it comes to partying and prostitutes is helping him totally dominate this rehab stint. He's a fighter. And two, he's not really acting when on "Two and a Half Men," he's sort of just playing himself. But hey, the show makes people happy and it makes people rich. More power to you, Charlie Sheen.
Click For Scandal Report: Parka-Clad Stars Sundance the Night Away