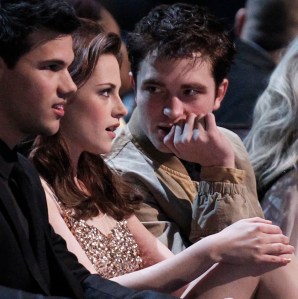 Who knew that the Twilight stars can't convince anyone to give them money for a non-vampire movie? That's among the surprises of Vanity Fair's list of Hollywood's top earners in 2010. Much here was predictable: Johnny Depp's merger of family movies and action makes him the highest-paid actor, and James Cameron outearned any director with back-end payments from Avatar. Well, of course! (Though doesn't Avatar feel like a century ago? Just us?)
The biggest surprise may be the failure of those Twilight kids to cross over in any meaningful (or lucrative) way. Robert Pattinson, Kristen Stewart, and Taylor Lautner all made $12.5 million apiece for parts 1 and 2 of Breaking Dawn, the final installment of the series. But Pattinson's big crossover attempt, Water for Elephants, is only paying him $1.5 million, and Stewart's On the Road adaptation nets her $2.5 million. Lautner is, by comparison, an overachiever, getting $7.5 million for the thriller Abduction. He may be the only one producers want to see outside of Forks — or the one who's aiming most squarely at commercial projects.
Doesn't it seem, too, that after projects like The Bounty Hunter and Love Happens, Jennifer Aniston would be out of the $10 million club? Not so — she's making eight digits for the upcoming Adam Sandler film Just Go With It, in which she plays a supporting role. No wonder they had to get an actress with a low day rate, the newcomer and model Brooklyn Decker, for the film's romantic lead! After Stewart, Aniston is the highest-paid actress in Hollywood by Vanity Fair's calculations. Poor Julia Roberts isn't there at all!
Finally, it's notable, if not shocking, that producer Jerry Bruckheimer has held onto his first-look deal with Disney after a rough two years. 2009's Confessions of a Shopaholic preceded the epic 2010 combination of Prince of Persia: The Sands of Time and The Sorcerer's Apprentice in damaging Bruckheimer's once-golden reputation for putting together big-budget spectacles that earned their extravagant budgets. Vanity Fair indicates that Bruckheimer has already been paid $10 million for the fourth Pirates film, due out this year, but further paydays will be contingent on its performing well with a largely new cast. Good luck, Jerry! Tyler Perry's close on your heels.
ddaddario@observer.com :: @DPD_