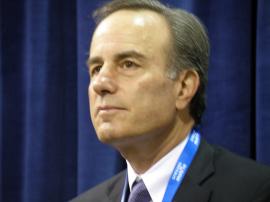 The announcement of the Verizon iPhone has its customers wondering whether all these Apple fanpeople are going to endanger the good service they've enjoyed for years.
AT&T's network failed to keep up with the jump in its customer base created by its exclusive contract with Apple for the coveted phone, and the same thing could happen to the red carrier. Verizon's moves suggest the company is preparing for a Groupon-like effect, but it's very possible that service will be compromised in cities with dense demand like New York and San Francisco.
The company first offered the iPhone to existing customers, a smart public relations move even if service doesn't go sour, but iPhones will become available to anyone on Thursday. Today the company announced an additional 12 cell sites in New Jersey. With the 16 already announced in New York, that brings the total number of new cell sites in the New York metro area to 28.
ajeffries [at] observer.com | @adrjeffries