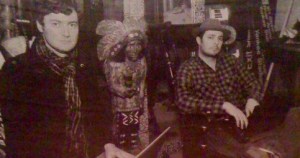 Anthony De Rosa is famous on Tumblr as SoupSoup, and on Twitter as one of NBC's top 20 people to follow for local news.
He's also the cofounder of Neighborhoodr, a crowdsourced network of Tumblrs that blog and reblog neighborhood-level news, events, videos and photos for more than 60 neighborhoods in New York.
De Rosa announced today that Neighborhoodr has expanded into 25 new cities beyond New York, including Austin, Nashville, Seattle and Los Angeles, and he's made public the real-time Chartbeat traffic stats for the network. The most popular blog by far at the moment is the West Village, which recently reposted a photo of an elaborately decorated locksmith shop and a tiny snowman to announce the snow Sculpt-Off in Highline Park.
The prolific De Rosa has contributed to Reuters, Gawker, Mediaite, BrandChannel and IFC, and recently started a dedicated blog at Reuters. The New York Times recently identified him as "the undisputed king of Tumblr."
ajeffries [at] observer.com | @adrjeffries