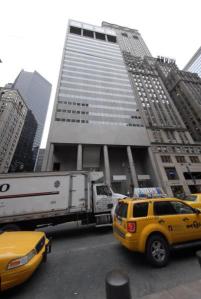 120 Park Avenue
Wells Fargo is consolidating its Manhattan offices into at least 300,000 square feet at 120 Park Avenue.
The Midwestern bank's Manhattan office space is currently spread across Tower 49, Grand Central Tower, 1211 Sixth Avenue and 40 West 57th Street. The new deal will allow the tenant to give up most of that space, according to Real Estate Weekly, which first had news of the deal.
It could include expansion rights to 400,000 square feet.
The tower is the former headquarters of cigarette maker Phillip Morris, whose parent company, Altria, sold it to Global Holdings in 2007 for $525 million, The 640,000-square-foot building has sat largely vacant since.
Sources say that Wells will likely pay rents in the $50s per square foot.
Eastdil Secured, led by chief executive Ben Lambert, represented the tenant. Wells Fargo owns Eastdil. Paul Glickman of Jones Lang LaSalle represented the landlord.