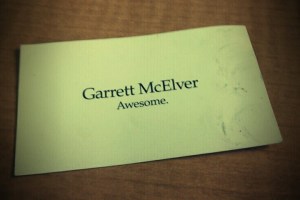 Paper. We're over it. The Observer never brings a business card anywhere. Mostly because we don't have one (note to self: resend "Where is my business card?" email). Luckily, it's easy to explain that away.
In the tech scene, at least, it's better to connect on the spot via Twitter–and gain a follower!–or send an email, or otherwise direct people to the internet. Nice to meet you, we say. If you ever want to speak again, you can find me in the cloud.
One of New York's most-discussed startups, Hashable, hopes to replace the business card with its system of Twitter hashtags, emails and profiles. So is startup My Name Is E, a system for exchanging electronic business cards, who coined the double-take phrase "do you use E?" Contxts exchanges information via text message; there's the novelty version, Bump.
All these valiant efforts came up in a Quora thread, "Has anyone found a good way to kill business cards yet?", which has been simmering for months. The answer so far is no. And why not?
"Part of the challenge is old people still use paper even when they realize it is inefficient because they haven't adopted different social mores yet," one investor said.
"Without a doubt, the mobile phone has already killed the business card but no single company has figured a way to offer a codified replacement of the exchange of this data that is as seamless and effortless as the business card exchange," another commenter wrote.
Or maybe it's because as much as we hate the inefficiency of business cards, we're still impressed by a well-designed paper, plastic or metal token– like these 16 slick, cute or creative business cards The Observer has collected at New York tech events.
ajeffries [at] observer.com | @adrjeffries