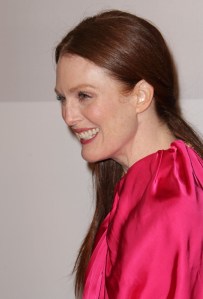 There are TV actors (Michael Chiklis, Debra Messing, Julianna Margulies) and then there are movie actors. This exalted latter breed will deign to show up on your sketch show or guest on your sitcom — but once they've crossed over to movies, they're not going back. Or so it used to be, until, we'd estimate, 2000's Geena Davis Show — an ABC sitcom, starring an Oscar winner, that coincided with the rise of cable and its vast need for programming, and performers. Though the show was a failure, soon movie actresses seeking a steady paycheck were giving up their fancy premieres to work long TV hours, with less glory attached.
This pilot season, networks are seeking actresses to follow in the footsteps of Davis, or Glenn Close, or Sally Field. Shows like Close's Damages or Field's Brothers and Sisters attracted, at least at first, attention incommensurate with their actual quality thanks to the high-powered female lead. Following suit, producers of maybe-iffy pilots are approaching movie stars Ryan Phillippe, Kim Basinger, and Susan Sarandon. (Ethan Hawke has already signed to a Fox drama!) Along with fellow big star Naomi Watts, Julianne Moore is now under discussion by TV producers, as she was last year: perhaps her ill-received guest run on 30 Rock was an audition for a scuttled 2010 remake of Britain's Prime Suspect.
All the better for her, perhaps: she's now free to promote her summer romantic comedy and soak up some post-Kids Are All Right movie offers. For anyone with other options, TV's a nice place to visit, but not to live.
ddaddario@observer.com :: @DPD_