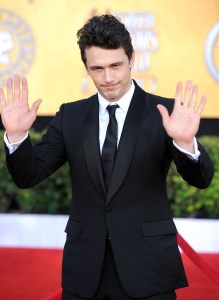 Today, Academy Awards co-host James Franco broke his silence on one of the most sought-after pieces of information this Oscar season, a bit of gossip that eludes the ears of even the most well-connected of industry vets: where's the after party going to be?
Now we have a lead. People has some Franco-given info about the late-night bash to follow the Academy's Governor's Ball, and naturally the multitasking extraordinaire is taking matters into his own hands.
"I'm a partner in a bar that's opening up, and the after-after-after-after-party is going to be at my new bar," People reported from a chat a Canadian radio station had with Franco. "It's at a secret location. And that's what I'm looking forward to because I'm going to be singing there at the bar. I'll be singing at the Oscars, but there will be a private performance at my new bar."
We have two clues: it's called the Writer's Room — well of course it is — and it's in L.A. Convenient!
If you come across even the smallest detail as to where this mysterious "Writer's Room" may be, let us know.
Click for Scandal Report: Champagne Mania Makes for A Boozy Golden Globes