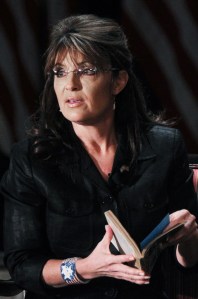 Plenty of news happens each day–and plenty slips through the cracks. Readers, let's test your collective memory!
Does Sarah Palin, based on her togs on a Long Island stop, believe in a woman's right to shoes?
…And on the other side of the political aisle, what wristwear indicates that all's well with Chelsea Clinton's marriage?
Which perpetually-comeback-ing Oscar winner is performing on Jimmy Fallon's show?
Whom does Whitney Port blame for exiling her from the city–or, at least, from MTV's The City?
Which director's selling out the Film Forum–and what nation's storming New York cinema shortly after?
Which beloved photographer is getting a retrospective of her work at MoMA?
Which opera, currently being staged in another country, was the subject of two Times pieces in a week?
ddaddario@observer.com :: @DPD_