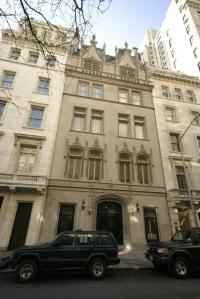 If the mansions of Aby Rosen or J. Christopher Flowers do not offer the rich and fabulous enough of an opportunity to make a statement–they are asking $50 million and $40 million, respectively–how about a Gothic limestone castlette asking as much as both combined?
Brown Harris Stevens' Paula Del Nunzio has just brought to market Lucille Roberts' old mansion for $90 million, The Times reports. The workout queen, who died in 2003 after building an empire of womens-only gyms, bought the 35-foot-wide home for $6 million in 1995 from an exercise club that barred the fairer sex.
That is quite the price jump, even if the townhouse market has rebounded nicely. Consider that it is a 70 percent premium over Flowers' record-breaking $53 million purchase, a bold, even bonkers, price. Perhaps the sellers, Roberts' family, are short of breath from all that exercise.
According to The Times, 4 East 80th Street is sandwiched between two other massive homes–this one covers 18,000-square-feet–built by dime-store magnate Frank Winfield Woolworth. It is a doosy: "The seven-floor house with elevator includes a paneled library the width of the structure; a formal dining room that can seat 50; a parlor floor with 14-foot-high ceilings; 10 bedrooms, 11 and a half bathrooms; and 3 kitchens."
For those looking for a lighter workout, the home can also be rented for a mere $210,000 a month.
UPDATE, 2:38 Paula Del Nunzio called The Observer to explain such a high asking price. "A critical point to note is that 4 East 75th Street is the first renovated mansion to be officially on the market," she said. "Whereas all the other mansions that are on the market require a great deal of work, so that explains the different numbers." She added that such a large home could take years to renovate, and there is the matter of finding lodging in the meantime, so a move-in ready mansion really is a rare thing that demands a premium.