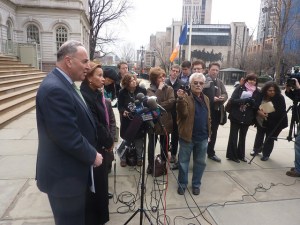 Senator Schumer and Congresswoman Velazquez are asking for the National Transportation Safety Board to expand their investigation into the fatal bus accident that killed 15 people after it rolled over and was sliced in half.
"We need more regulations," said Velazquez, on the steps of City Hall.
Schumer said the need to look at the entire discount tour bus industry is long overdue.
"The industry has grown dramatically and it looks, on preliminary inspection, that the regulations haven't caught up with the growth of the industry," said Schumer.
Both described the discount tour bus industry as a vital part of the local economy.
I asked if either would recommend people avoid this mode of transportation until a more thorough review was complete.
"I would leave that, again, to the authorities and the NTSB," said Schumer.
The investigations are "going to be good for the industry," said Velazauez, who added, "once people know safety and soundness is in place, I would take one of those buses myself."
UPDATE: A reader notes Assembly Speaker Silver, State Senator Squadron and Councilwoman Chin proposed legislation last month to better regulate the industry. From a February 4 press release:
"The proposed legislation would authorize New York City to pass a local law to regulate intercity passenger buses through a permit system, which would include assigning pick-up/drop-off locations, providing for community board and MTA input and regulating enforcement. Permits could be issued for up to three years, and holders would pay the city an annual fee. "