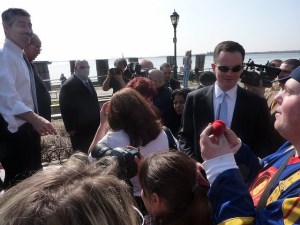 The downfall of Steve Levy is an "embarrassment" to the Republican leaders who wanted him to be their party's gubernatorial nominee, said one Republican operative.
Yesterday, Levy settled a 16-month investigation into his fund-raising practices by handing over his entire $4 million campaign account to the Suffolk County District Attorney and pledged not to seek a third term as Suffolk County Executive. Levy's campaign account was among the reasons offered by Republican Party leaders, like state chairman Ed Cox, when explaining why they recruited the life-long Democrat to run for the Republican nomination. That money is now being offered back to contributors; whatever is not claimed will be donated to charity.
Levy's recruitment shook up the Republican Party heading into the 2010 elections. Levy's campaign nearly derailed the campaign of former Congressman Rick Lazio, who had the support of party figures like former Mayor Rudy Giuliani and former Governor George Pataki. But Lazio struggled to raise money and pick up endorsements from county leaders, in part because of Levy's candidacy and Cox's involvement. Lazio eventually succeeded in keeping Levy out of the Republican primary, but lost the nomination to the Tea-Party fueled Carl Paladino, a businessman from Buffalo.
Today, Lazio's former campaign spokesman, Barney Keller, took a shot at Cox, by way of Levy's scandal.
"This is a huge embarrassment for Ed Cox and John LaValle," Keller wrote in an email to me. "They slobbered all over Steve Levy solely because of his campaign account, and now they won't see a dime. I guess it's true what they say: only fools invest in fools gold."
Messages left on Cox's cell phone yesterday have not been returned.