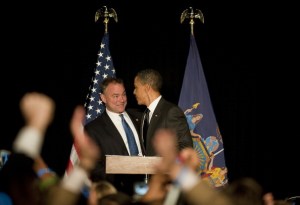 President Obama is making progress.
According to two sources who attended the "purposefully small" D.N.C. dinner at the Red Rooster in Harlem last night, a few of those much-discussed, dissident donors were among the 50 attendees who paid $30,800 to enjoy short ribs and cornbread, and chat amiably with the president.
"There were people there who in the past have expressed frustrations, and one person who said, 'You know, I'm not going to support him for re-election,'" said one attendee. "Well, they're there. And what it said to me is ultimately these people are going to come around. They're going to come around because they don't want someone who is beholden to the Tea Party to become President of the United States."
Last summer, a number of donors, particularly in the financial services industry, were said to be offended by the president's hostile rhetoric toward Wall Street and what some saw as a generally unsupportive approach to business. But, after bruising losses in November, Obama has tacked toward the center, compromising with Senate Republicans to renew the Bush tax cuts and appointing advisers with a business bent.
"I think that it has definitely subsided," said the attendee of the criticism. "It's certainly the case that since the election, both the tone from the White House and the mood among a lot of people who have been very critical has changed."
Neither source wanted to cite specific individuals, but they mentioned separate examples of people who had come back to the fold, including one person who sat out donating last year over some particular annoyance, but couldn't recall last night what exactly the reason had been.
"That was last year," said the second attendee. "There were probably people who were asked if they wanted to come to that dinner and said, 'No I'm pissed off about this or that or the other thing.' And those same people six weeks from now, and certainly six months from now…"
The president did his best to mend any hard feelings, bestowing each of the six tables with ten or twelve minutes of his time. The guest list ranged from D.N.C. Chairman Tim Kaine, to local elected officials like Congressman Charlie Rangel, to longtime supporters like Ralph Schlosstein.
"It's an extraordinary thing to get to spend a little time with this remarkable guy," said the second attendee.
But the praise wasn't reserved for the president.
"By the way, the food was unbelievably good," said the source. "You should have tasted that food. The short ribs must have been simmering for months."
When the person inquired about a reservation, they were told the wait was at least a month.
"Here I thought I'm helping out this new restaurant," said the attendee. "Well, I should be so lucky."