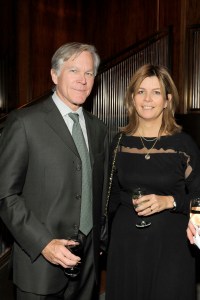 Sometimes it's convenient to have a newsroom at your fingertips.
When returning to the states from a trip to the U.K., Emma Gilbey Keller, spouse of New York Times executive editor and 50th most important person in the world Bill Keller, asked the Twitterverse, "Exactly what is the snow situ in NYC? And what is expected for tues? Come on all you journalists, give me a fill." Times foodie Sam Sifton responded within minutes, "Latest snow amounts: Central Park:3.2″, LaGuardia:3.5″, JFK: 2.3″". He was correct. We fact-checked him.
The Gray Lady may be inscrutable to most outsiders, but Mrs. Keller's feed offers an unusual window into the life of The Times' top dog, serving up nuggets about leisure activities ("Yippee @nytkeller scored 2 tix to F. Murray Abraham in Merchant of Venice!") and travel ("Off to the Taj Mahal with @nytkeller").
Then there are the pressures of breaking news. "FYI: @nytkeller will NOT be attending #SXSW this pm," Ms. Keller tweeted last week. "Due to the situation in #Japan he will stay in NYC to run coverage."
And about that coverage: "I can't watch any more news. Hiding in front of the Martha Stewart show. Better than Xanax," she wrote after days of closely following the tsunami.
"Work, work work," she wrote on another occasion, commenting on one of her husband's tweets. Apparently, he can sometimes be hard to reach. "@nytkeller, check your inbox asap," she wrote on Friday. (Isn't that what direct messaging is for?)
And after Mr. Keller began writing a column for The Times Magazine, Ms. Keller gushed that "@nytkeller manages to write some more while doing his day job a& all his chores. What a guy!"
The Observer connected with Ms. Keller in India over Twitter to ask what attracts her to the social networking platform. "It allows me to be simultaneously gregarious and antisocial," she DM'd back. "And it makes me laugh."