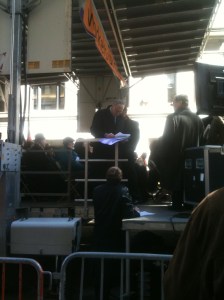 Mayor Michael Bloomberg received a very mixed reception at commemoration of the 100th anniversary of the Triangle Shirtwaist Factory fire this afternoon in the West Village.
Although the mayor was greeted with a smattering of applause, he was booed and heckled throughout his four-minute speech before several thousands labor supporters who gathered in front of the site where one of the worst disasters in U.S. workplace history occurred.
Bloomberg touted his own administration's efforts to improve workplace safety and reform immigration laws.
"In striving to meet new tests, we honor our true heritage, in drawing together as a community, we find our true strength," the mayor said, while appearing to glare at some in the audience who were trying to interrupt his speech.
Bloomberg was preceded by RWDSU head Stu Appelbaum, who called out all city elected officials who do not support a living wage, saying that they have the mentality of the Triangle Shirtwaist Factory owners who locked the doors of the workplace, which allowed over 100 workers there to perish.
Mayor Bloomberg has come out against a living wage, and although he wrote supportively over collective bargaining, he has tangled at times with the city's unions over lay-offs and pensions.
Bloomberg was introduced by Workers United president Bruce Raynor, who praised the mayor for "[standing] up for safety in this city" and for being "a great friend of our union." He added that the mayor "as has always made it a practice to buy suits made by Workers United members."
Senator Chuck Schumer also spoke at the event, brandishing a raised fist when he came to the lectern in solidarity with the workers gathered there, and delivered a robust defense of unions and the social safety net.
"Today, some on the far right want to rob workers of their hard-earned collective bargaining rights. They seek to fray the social safety net under the false pretense of fiscal austerity. Today, ladies and gentlemen, those hard gains are under threat across the United States by those who want to drag our nation back to 1911," he said.
He was joined on the stage by several other New York politicos, including Congresswoman Carolyn Maloney, Congressmen Jerry Nadler and Charlie Rangel, Comptroller John Liu, Public Advocate Bill de Blasio, Council Speaker Christine Quinn and Manhattan Borough President Scott Stringer.