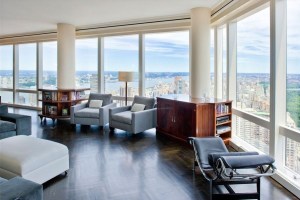 To all the Jets fans out there tonight in their green and white celebrating St. Patrick's Day, an extra shot of Jameson is in order. Despised Patriots quarterback Tom Brady was tackled on his Time Warner Center condo, scoring a million dollars less than he originally wanted. That said, the Bündchen'd back was not sacked for a loss, as some had hoped.
Mr. Brady earned a few yards on the deal, selling the 74th floor spread for $17.5 million, city records show. That is a good bit more than what he paid in 2006, $14 million–or as The Observer likes to think of it, a pair of million-dollar touchdowns . The difference between the two prices is about what the Patriots pay Mr. Brady to play two football games. (Last month, The Journal reported that the unit had gone to contract, but not how much or to whom.)
The buyer of the 3,000-square-foot pentagonal spread is, according to city records, Robert Stiller, the richest man in Burlington, Vt., and the entire state for that matter.
The purchase is a homecoming of sorts. Mr. Stiller made his first fortune right here in Manhattan, where he and a fellow ad exec endeared themselves to an entire generation of hippies through the creation in 1971 of E-Z Wider rolling papers, the first double-wide papers designed explicitly for smoking dope. They sold the company a decade later to a British tobacconist and split the $6.2 million.
His next success came through another drug, caffeine. While hitting the slopes in Vermont, Mr. Stiller had his first taste of Green Mountain Roasters coffee. Addicted, he took over the company and saw it through a not-quite-Starbucks-sized expansion. (Full disclosure: The Observer stocks rather despicable Hazelnut-flavored Green Mountain Roasters coffee in its pantry.)
Should Mr. Stiller be bringing his coffeemaker to his new Central Park redoubt, there is certainly plenty of room for it. "The impeccably-designed 3bd 3.5 bath home that awaits atop this soaring 5 star residence will captivate even the most discerning NYC luxury-seeker with its sweeping Central Park & River to River views," declares top-selling Douglas Elliman broker Raphael DeNiro in his listing. "Its gracious 7-room layout affords ultimate style & comfort, while its ambiance is flooded with in-pouring light from a generosity of 10ft floor-to-ceiling windows."
The northeast-facing great room alone measures more than 700 square feet–almost big enough to play football in or set up a roasting plant.
Read past Manhattan Transfers here. >>